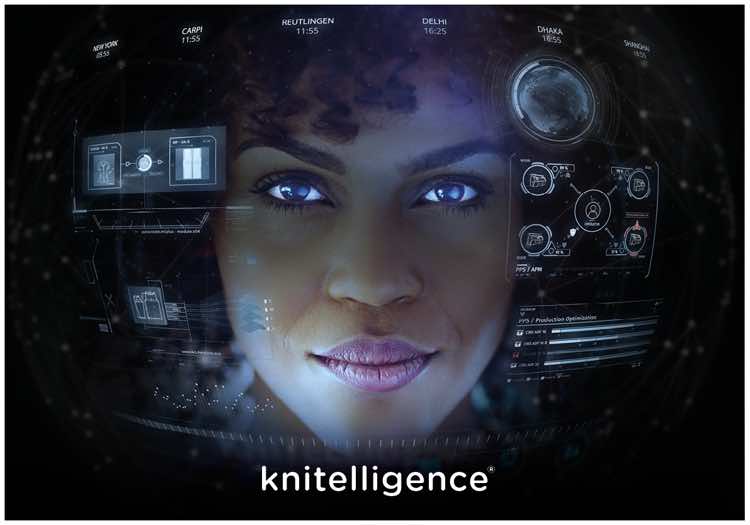 Reutlingen - Flat knitting machine builder Stoll has launched a new networking system which combines all of the company's software products that are required for textile production.
Called knitelligence, the networking system covers the entire value creation chain of flat-knitting production, from the design idea to development and manufacture, effectively offering tailored solutions for every component.
knitelligence has been designed to bring together products such as the flagship M1plus, APM, GKS, PPS, EKC, and autocreate in a way that will allow them to interact with each other, automate processes, and network production stages. In this way, says Stoll, customers benefit from more consistent workflows, shorter, transparent production cycles, and an increase in quality, productivity, and, therefore, overall plant efficiency.
According to Andreas Schellhammer, CEO of Stoll, with the modern IoT technology, customers can not only design their processes to be considerably more efficient, but can also react far more flexibly to the requirements of the market. "Our aim is to always develop further for the benefit of our customers," he said. "knitelligence is an important step in that regard. Just as the long-standing company has represented intelligent progress and pioneering quality for over 144 years, it continues to set standards in the age of digitization and, with knitelligence, is creating substantial added value for its customers: highly efficient flat-knitting production through the optimization and networking of individual production steps."
PPS
With digitization becoming increasingly important in textile production, this latest development follows other recent launches such as the above mentioned PPS in which the the knitting development and knitting production are implemented and optimized in one system with a platform independent technique.
The Stoll-PPS is said to provide quick and smooth production times – essential for fast changing markets. Benefits include: live monitoring of production with control of lot sizes; fully automated order planned production; detail order planning; alarm system for quick problem handling, calling of senior knitter or maintenance service; and an integrated web-based solution for worldwide access and usability for tablets and smartphones.
The PPS also offers label printing with current production data; reporting with many selection possibilities (e.g. sorted into order number, customer number); live backup of data-base and reproduction to the split second; centralization of processes (e.g. machine-updates, basic adjustments), central storage of logins and machine configurations and the work center calendar for realistic planning of production and determination of production capacity.
Add to this the web-based access and remote support for machines and Stoll is confident that the PPS can offer a productivity enhancement of between 5-10 per cent.
Stoll also offers the Grading for Knitting System (GKS), a system developed for the production and grading of cutting templates.
The GKS integrates originals that are already fully dimensioned and functioning, for all typical pattern variants. Using these as a basis, a first prototype can be quickly produced and then changed as much as desired, guaranteeing that the linking edges of all cut parts in all sizes fit together perfectly. Also noteworthy is that the dimension formulas are accessible and adjustable in the GKS itself, an advantage when creating individual cuts.
A particular highlight is that all information necessary for pattern generation, such as shape modules, is already integrated into the cut and is definable in advance. Information, such as the type of start, narrowing specifications can be defined or changed for all sizes at once.
Although usable as a standalone system, the GKS also works closely with M1plus. As the cuts produced in the GKS already bring all the necessary knitting information with them, these can be passed on to the M1plus for pattern generation without having to be reworked. For complex patterns with Intarsia or Jacquard, GKS cuts can be used as an alternative to the classic cut for pattern generation in the M1plus.
The GKS also supports the pattern development workflow. It can be used by both knitting experts and knitting technicians and, says Stoll, enables an error-free handover. This means that sources of error due to manual import and export processes or typing mistakes are eliminated. The knitting panels in all sizes are all put together in one file and there are various different possibilities for adding different item information.