Shanghai - The Stoll booth at the recent ITMA Asia + CITME exhibition offered visitors a detailed insight into the company's knitelligence system as well as the latest flat knitting technology.
knitelligence is the company's new software development, a key highlight from the ever-growing field of Stoll Software Solutions. It is a modular system that combines all of the company's software solutions under one platform that covers the entire value chain of flat-knit production.
From design to production, knitelligence can be easily integrated into existing customer processes, a benefit that was highlighted by the topic "networking and digitalization of processes", a focus that attracted numerous visitors to the Stoll booth.
In order to ideally illustrate the new software offering, the company hosted a live demonstration to best illustrate the workflow of knitelligence. Visitors were able to edit their own images and motifs in the Photoshop plug-in STOLL-artwork and convert them directly into knitting program via STOLL-autocreate and knit them on site. "This was the perfect souvenir for anyone interested," Stoll said.
In terms of knitting machine technology, Stoll presented the new ADF 830-24 W knit & wear with the multi gauge E7.2 to the public for the first time which, at the booth, was producing a knit & wear pullover with plating technique. knit & wear technology was also present via the new CMS 830 HP knit & wear in multi gauge E9.2.
Visitors were also able to see further samples of Stoll technology such as the CMS 330 HP W TT Sport, the CMS 502 HP + Bc and the ADF 530-24.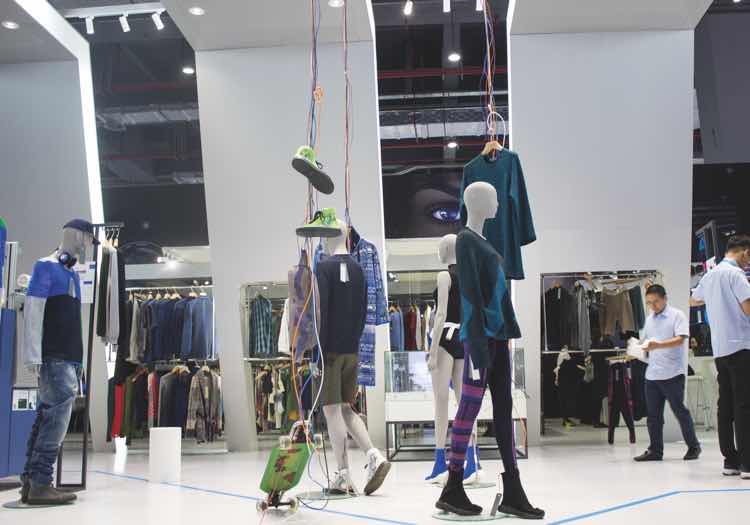 The Reutlingen, Germany-based firm also presented some new innovations from the areas of Fashion & Technology and Technical Textiles. For the latter, Stoll showcased samples for the growing market for applications and technical implementations such as the performance range of the CMS 330 HP W TT sport multi gauge in E7.2 by knitting shoe uppers and various other technical items.
Further technical textiles applications shown included medical designs, upholstery solutions, conductive garments and samples for industrial uses.
In the Fashion & Technology section, Stoll introduced the Adobe Photoshop extension STOLL-artwork for the creation and production process, an innovation that attracted a significant amount of visitor interest through its
live demonstrations. Also on show was the latest trend collections, Digital Knits, which offered a number of impressive knitting patterns created on STOLL-artwork.
In addition to these latest developments, Stoll also provided its visitors with four well-attended seminars in the area of Technical Textiles, Digital Knits, STOLL-artwork and knit & wear.