A collaboration between The Woolmark Company, flat knitting machine manufacturer Shima Seiki and three leading merino wool manufacturers has resulted in a 'first of its kind' capsule collection that offers a new interpretation of tailoring by using an innovative form of knitwear.
Using yarns from Filati Loro Piana, Tollegno 1900 and Zegna Baruffa Lane Borgosesia, the Merino wool collection comprises three outfits that provide a modern and urban interpretation of the classic formal look using knitted fabrics, rather than traditionally used woven fabrics. The garments are a showcase of the latest knitting technology from Shima Seiki as well as Woolmark-certified Merino wool yarns.
The fabrics have a 'double face' structure comprising two layers of knits, the first made using Merino wool yarn which provides a beautiful texture and luxurious touch, and the second made using a TPU Evolution yarn, from Italian company CoatYarn SRL, which provides a 'peach-like' touch. The result is a garment that is more rigid, yet elastic and soft to touch.
The image above is a coat, jumper and trousers were made using Lora Piana Yarn Winter Island 13 micron 2/150 Merino wool yarn with CoatYarn's TPU Evolution yarn. The coat and trousers were knitted using Shima Seiki's SVR 123 SP SV 14-gauge machine, while the jumper was knitted using Shima Seiki's FIRST 124 S .21 machine that knits particularly lightweight garments.
The combination of the two knitted materials, which are laminated together during a solvent-free heat vapour treatment, provides wool knitwear garments with a new and contemporary look. As well as having wool's usual benefits including comfort, natural stretch, thermoregulation and odour- and wrinkle-resistance, this unique fabrication provides additional performance benefits such as water repellency and minimal chance of pilling.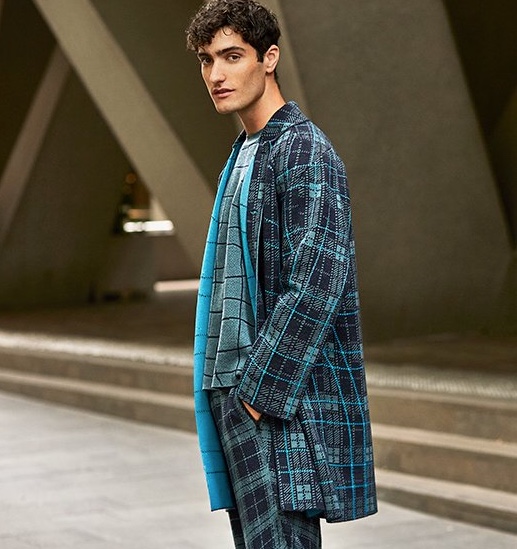 This coat, jumper and trousers to the right were made using Zegna Baruffa Lane Borgosesia's Millennium EcoTeflon 2/60 Merino wool yarn with CoatYarn's TPU Evolution yarn. All three garments were knitted using Shima Seiki's SVR 123 SP SV 14--gauge machine.
"All three of the outfits originated from the same creative matrix, conceiving a man and a woman always in motion, metropolitan, and with this thought in mind we have produced structures with the latest generation machines from Shima Seiki, using Merino wool yarns from three different spinners from the Biella region," explained Creative Director of Shima Seiki Italia, Vittorio Branchizio, highlighting how the production process is an environmentally friendly one that avoids the traditional cut and sew technique and uses exactly the correct quantity of yarn, thereby resulting in less fabric waste than traditional garment manufacturing. Moreover, no linings are needed with these garments.
In this particular project, all the yarn suppliers were Italian which helped minimise its environmental and financial costs of transportation.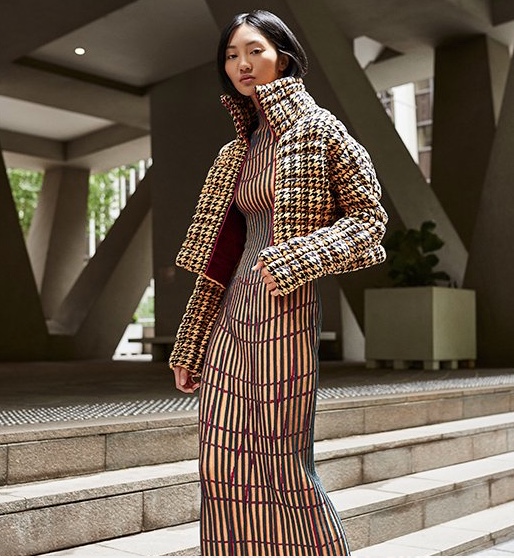 This dress (left) was knitted on Shima Seiki's N.SVR 183 SP F.14-gauge machine using Tollegno 1900's Harmony 4.0 2/48 Merino wool yarn with CoatYarn's TPU Evolution yarn. The bomber jacket was knitted on Shima Seiki's SRY 183 LP 14-gauge machine, that provides a three-dimensional padded effect, using Tollegno 1900's Re-Abarth 2/37 yarn (60% Merino wool, 40% recycled polyimide) with CoatYarn's TPU Evolution yarn.
"Collaborations such as this not only stimulate the supply chain to undertake innovative R&D, but it also provides new opportunities for the whole textile supply chain, from manufacturers to brands, to create new commercial opportunities for wool," added Birgit Gahlen, Research & Development Manager for Europe, The Woolmark Company.