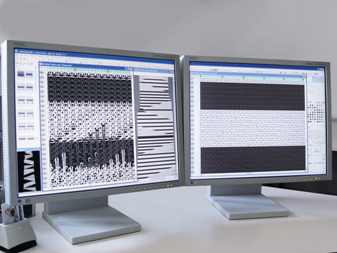 Reutlingen - Providing a range of software tools aimed at providing more effective and economic pattern design and knitting processes, Stoll-Software Solutions has released the latest version of its popular M1plus design software for flat knitting applications.
Some of the main attractions of the latest M1plus 5.1 system are that designers now have a new function for the automatic creation of Argyle diamonds with and without fancy-stitch. There are also the possibilities of producing a knit-in with patented split knot and an improved representation during the positioning of copied selections or pattern elements.
Equipped also with a Stoll Knit & Wear method ''stamp out'', this latest version of M1plus has a function that protects the region outside of a selection and a Shape Editor which retains the step definitions when converting input format Steps>Stitches and vice versa.
For further ease of use, modules can be arranged in the module toolbar as needed while the undoing of modifications before expansion of regions is possible.
New modules available include one for closing stitches with kick-back for single jersey and modules for Fair Isle and Doubling, In addition there are new Knit&Wear starts for pullover, cardigan, body, slipover, waistcoat and trousers along with short sleeve slipover with armhole ribbing. Improved modules for collars of cardigan area also available.
The software is also equipped with a DVD of ready-to-use pattern samples.