TAIPEI ? A group of Taiwan circular knitting machine builders led by Pai Lung has bought US-based Vanguard Supreme Knitting Machine Company for an undisclosed sum.
Vanguard Supreme is formerly a division of North Carolina-based Monarch Knitting Machinery Corporation and specialises in body-size and smaller diameter circular knitting machines for the underwear fabric sector. It is especially noted for its high-speed rib technology which is considered by many to be the best on the market.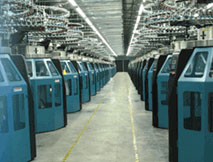 A new company has now been formed under the name Vanguard Pai Lung, LLC which will continue to produce and supply Vanguard Supreme?s high speed circular knitting machines, as well as to offer Pai Lung?s fashion and home textile circular knitting machines.
The two companies have been competing aggressively in the US market for some years especially in terms of producing machines with higher speed factors and larger fabric roll diameters.
Pai Lung says that this acquisition will now allow Vanguard Supreme and Pai Lung to effectively integrate R&D, production, sales and marketing resources and service.
Further details to follow in due course.