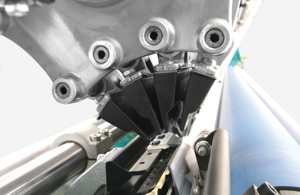 Obertshausen - Karl Mayer says it has increased the speed and accuracy of one of its best-selling raschel machines by equipping it with bars made from carbon fibre-reinforced plastic (CFRP).
The new look RSE 4-1 will be available by April 2010 and according to the warp knitting machine builder, will be the fastest four-bar raschel machine available on the market.
The speed of the RSE 4-1 has been increased by integrating CFRP components into the machine construction, which has been specially adapted to handle these components. Karl Mayer has already employed this technology on other machines ? most notably the HKS 2-3 which has enjoyed particular success in both the European and Japanese markets.
Log in or register to see this content