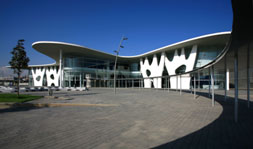 Paris ? As the organisers of ITMA and the International Wool Textile Association sign a working agreement, a number of leading companies have already signed up to exhibit at the show?s new fibre and yarn chapter.
With the agreement signifying the start of a new partnership, the new chapter will include natural, man-made and technical fibres, and natural, synthetic and technical yarns. Among those already signed up are Hermann B?hler, Lenzing and Texplan S.A.
?Our main aim is to help textile and garment manufacturers be more efficient in their sourcing. Hence, we have added raw materials in the exhibit profile,? Ms Sylvia Phua, Project Director of ITMA and Chief Executive Officer of MP International, said. ?Wool is one of the world's premier textile fibres, and world consumption in 2010/11 is forecast to reach 1.08 million tonnes, according to the Economist Intelligence Unit. Through this new partnership with IWTO, we are confident of delivering an unrivalled sourcing experience for buyers looking for natural fibres at ITMA.?
Mr Peter Ackroyd, Vice President of IWTO added: ?We believe there are outstanding synergies between IWTO and ITMA as we share many objectives. Our industry constantly strives to produce natural, renewable and environmentally-friendly products while ITMA remains the world?s most established textile technology show in these challenging times. As such, one of the collaboration opportunities being explored is a natural fibre pavilion, including a prominent wool section, at ITMA for our members to showcase their innovative products.?
As well as the IWTO, the US-based Synthetic Yarn and Fiber Association (SYFA) has also expressed its support. Kim Pettit, Managing Director of SYFA said: ?We are delighted to join many major organisations to support ITMA as it integrates fibre and yarn into its product index. We believe this will make the exhibition an even more relevant industry sourcing platform.
Other organisations in the fibre and yarn sector supporting ITMA are the Alexandria Cotton Exporters Association, Hong Kong Woollen & Synthetic Knitting Manufacturers Association, Peruvian Cotton Institute, Taiwan Wool Textile Industrial Association, The Hosiery Association (THA) and several cotton boards in Africa and other parts of the world.
To-date, more than 1,100 applications from leading machinery manufacturers from 41 economies have been received for ITMA 2011. The exhibition will be held from 22 to 29 September at Fira de Barcelona Gran V?a, Spain. To apply for space or order your badge online, please visit www.itma.com.