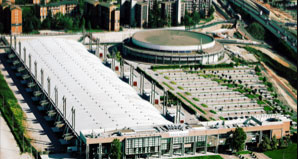 Brescia ? Around 50 suppliers of machinery and other equipment for the hosiery and finishing industries have now signed up for September?s FIMAST exhibition.
Scheduled for 26-29 September at the Brescia Exhibition centre, FIMAST the International Fair of Textile Machinery and Accessories was launched in 2009 as a successor to the well-respected FAST exhibition.
With a full spectrum of machinery and other equipment for the hosiery and finishing industries on display, exhibitors signed up include Italian sock knitting machine builders such as Busi and Colosio as well as other major players in the market such as Germany?s Merz, Taiwan?s Da Kong and Japan?s Nagata Seiki.
Ancillary equipment and needle suppliers will also be on display including Germany?s Christoph Liebers, Italy?s BTSR. Knitting Trade Journal will also be present with a booth and will be keen to welcome our existing readers and welcome new ones.
Covering 3,000 square metres of exhibition space, organisers are again confident that the new exhibition will provide a welcome boost to the hosiery industry during these troubled economic times.
The show is described as the ideal meeting point for both Italian and overseas professional visitors to discover the latest developments in this fast moving sector.
The exhibition will cover a range of sectors including preparatory machines, yarns and hosiery accessories, circular hosiery knitting machines, linking, sewing and assembly machines, dyeing and finishing machines, packaging machines and accessories, computer equipment, control systems and other services.