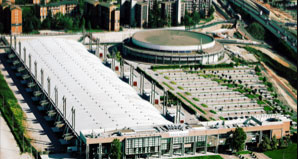 Brescia ? More than 80 suppliers of machinery and other equipment for the hosiery and finishing industries have now signed up for the FIMAST exhibition which begins in Brescia this week.
Scheduled for 26-29 September at the Brescia Exhibition centre, FIMAST the International Fair of Textile Machinery and Accessories was launched in 2009 as a successor to the well-respected FAST exhibition.
With a full spectrum of machinery and other equipment for the hosiery and finishing industries on display, exhibitors signed up include Italian sock knitting machine builders such as Busi and Colosio as well as other major players in the market such as Germany?s Merz, Taiwan?s Da Kong and Japan?s Nagata Seiki.
Ancillary equipment and needle suppliers will also be on display including Germany?s Christoph Liebers, Italy?s BTSR. Knitting Trade Journal will also be present with a booth and will be keen to welcome our existing readers and welcome new ones.
These are some further news brought by the exhibitors of FIMAST, the trade fair of textile machinery and technologies that will take place at Brescia Exhibition Centre from 26th September to 29th September 2012:
Other notable exhibitors will include:
Cubotex - who will show a new device for polyammide socks and tights dyeing and a rotating device for dyeing finished garments that features an innovative fluids recirculating system;

Ermest ? who will show a new boarding machine for socks as well as a new boarding machine for pantyhose and medical socks. The machine will be suitable for fine or heavy gauge garments;

Fadis ? who will show a ?multifunctional? machine that can perform seven different productive processes. One version of the machine can integrate an electronic Derouler that will deroule an elastomeric yarn interlacing it with a texturized yarn by using the air jet technology;

Mucchetti ? who will present an innovative device for the pre-Boarding of pantyhoses. This device will be installed directly on circular knitting machines for socks;

Sandonini ? who will introduce a totally new type of electronic modification for lady hosiery machines.
Covering 3,000 square metres of exhibition space, organisers are again confident that the new exhibition will provide a welcome boost to the hosiery industry during these troubled economic times.
The show is described as the ideal meeting point for both Italian and overseas professional visitors to discover the latest developments in this fast moving sector.
The exhibition will cover a range of sectors including preparatory machines, yarns and hosiery accessories, circular hosiery knitting machines, linking, sewing and assembly machines, dyeing and finishing machines, packaging machines and accessories, computer equipment, control systems and other services.