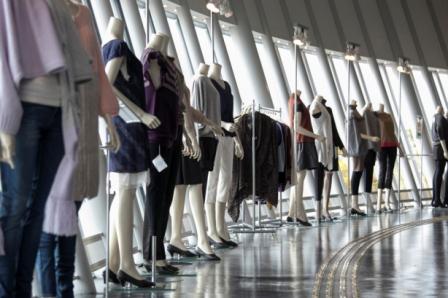 Wakayama - Flat knitting machine manufacturer Shima Seiki held a gala event to celebrate its 50th Anniversary, a celebration which included the launch of two new machines including one which is capable of knitting inlay patterns for all-needles which will allow users to explore applications for non-elastic knits outside the realm of fashion.
The event was held from 8 to 10 November, 2012 at Wakayama Big Whale, a large event hall in Shima's hometown of Wakayama, Japan, with about 1,400 customers and 1,000 employees participating over a 3-day period. It was highlighted by a fashion show, a dinner party and evening entertainment. 660 knitted items, as well as the company's latest line of WholeGarment machines were also exhibited, and several rooms were prepared for demonstrations on SDS-ONE APEX3 design systems as well.
During the event period Shima Seiki headquarters located nearby the event venue opened its factory doors for viewing. At its brand new factory specially constructed for WHOLEGARMENT machine assembly completed in earlier this year, 2 new machines were introduced.
Featuring 4 needlebeds and Shima Seiki's own SlideNeedle, the MACH2X WholeGarment knitting machine is described as the culmination of Shima Seiki's years of research, development, know-how and experience in computerized flat knitting, and is appropriately considered the most advanced flat knitting machine to date.
For its 50th Anniversary, SHIMA SEIKI has added a new machine to this lineup: The MACH2X173 5S. The new 5S machine features a 68-inch (170cm) knitting width and 5G standard-hook needles. Capable of knitting fabrics ranging from 4G to 6G, the MACH2X lineup now covers a full range of gauges from 4G to 18G possible for all-needle knitting of WHOLEGARMENT items.
SRY123LP
A completely new machine, SRY123LP is a four-needlebed machine featuring two loop presser beds on top of a conventional V-bed. Appropriately released for the 50th Anniversary of a company that has thrived on innovation, the machine features the current iteration of a long evolution of patents surrounding the holding down of knitted loops for permitting the formation of various knit structures.
Beginning with the Shima's takedown system and evolving through the stitch presser and spring-loaded full-time sinker system, the loop presser mounted across the entire knitting width over both front and back beds now allows effective holddown over every single loop, even for rib patterns. This makes the SRY123LP especially effective in knitting flechage and inlay patterns for all-needles. Inlay permits users to explore applications for non-elastic knits outside the realm of fashion. Such non-elastic material as carbon fibre and other industrial materials can also be inlayed, paving the way for new non-garment applications such as industrial and technical textiles.