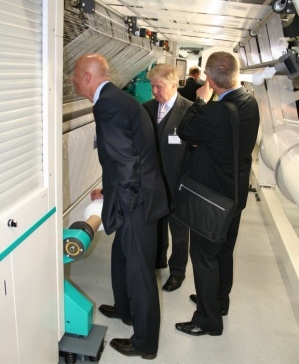 Obertshausen - The next Karl Mayer Open House event, which will feature the latest tricot and raschel warp knitting technology will take place on 25 September 2013 at the company?s Obertshausen headquarters.
The event will be used as a platform for the latest machine developments as well as ideas for manufacturing sportswear and outerwear fabrics.
For the Business Unit Warp Knitting the open house event will take place at Karl Mayer?s own Development Center in Obertshausen where the visitors will have to opportunity to see several machines including TM 4 EL tricot machine, the Multibar Jacquardtronic Lace MJ 42/1B and the high-performance tricot machine HKS 4-M EL.
The Business Unit Warp Preparation will be displaying its automatic sectional warper Nov-O-Matic (NOM) and the warp sampling machine Multi-MATIC (MM).
In addition, there will also be a presentation of the textile trends autumn/winter 2015/2016 for the ISPO Textrends Forum.
Registrations for the Karl Mayer event can be made by contacting This email address is being protected from spambots. You need JavaScript enabled to view it..