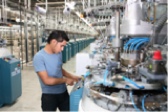 Montreal - Gildan Activewear says it is evaluating potential sites in the Southern U.S. for the construction of two additional yarn-spinning facilities, to support its projected sales growth and further reinforce its position as a global low-cost manufacturer.
The US$200 million investment is expected to help generate around 700 jobs.
According to Gildan, the facilities will be equipped with the latest technology, which will continue to differentiate the product quality of its branded products.
This investment will be made in addition to the investments announced on November 29, 2012 for a new ring-spun yarn manufacturing facility in Salisbury, N.C., and the refurbishment and modernization of the company's open-end facilities in Clarkton, N.C. and Cedartown, GA.
The company's total investment in U.S. yarn-spinning facilities, including the two new facilities, is expected to create over 700 jobs and further solidify the important domestic US component of its vertically-integrated manufacturing.
Gildan says it will provide further details of its capital investment program for fiscal 2014, including its plans for further expansion of its vertical textile manufacturing operations, when it releases its results for the fourth quarter of fiscal 2013.