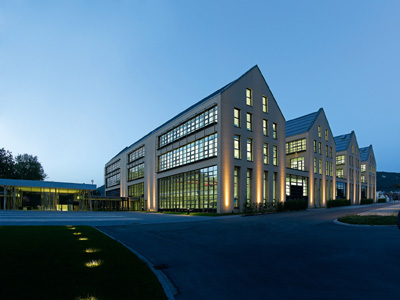 Albstadt ? Groz Beckert has released details of its new training program at the Groz Beckert Academy. The program for 2014 includes a repeat of the well established courses covering the entire textile value chain as well as a range of completely newly developed courses.
?Whether knitting and warp knitting, weaving, felting or tufting, whether basic, advanced or special course ? experienced and dedicated experts equip the course participants with comprehensive knowledge and practical skills,? the company said.
Training takes place at the company?s Technology and Development centre (TEZ), which includes facilities for research and development across the knitting, felting, weaving, tufting and sewing sectors will also act as an invaluable resource for the company?s global customer base, including machine builders and machine users. The TEZ also provides an important mine of information and research facility for Groz Beckert employees.
In the knitting section alone, the TEZ houses some of the latest knitting technology including machines from Stoll, Mayer & Cie, Santoni, Pai Lung and even Chinese built machines from companies such as Cixing. The machines are used for short runs as a service to partners and customers, technology experiments and well as the testing of Groz Beckert products under real production conditions.
The laboratory also houses research and development facilities for oils and lubricants while there are also facilities dedicated to the company?s new training course, which was developed by Groz Beckert in cooperation with the University of Albstadt Sigmaringen and has been open to students since the winter of 2009. The TEZ also houses an apprentice workshop, various meeting rooms and conference rooms and a state of the art auditorium.
The training courses on offer include:
Basics
Textile value chain basics

Fiber theory

Technical Textiles

Manual flat knitting and fault analysis I

Theory of fabric structures

Mechanical bonding (nonwovens)

Sewing and needle technology

Weaving technology

Tufting and tufting tool technology
Advanced
Manual flat knitting and fault analysis II

Electronic flat knitting

Large diameter circular knitting technology

Warp knitting technology
Special
Cylinder training

Cylinder gauge changes

Lubrication technology

Mounting of card clothing in a mounting device

Operating the WarpMaster machine

Technical training on the WarpMaster

Combined course: Operating the WarpMaster machine and Technical training on the WarpMaster

Tying technology

Posileno



For more details, visit www.groz-beckert.com