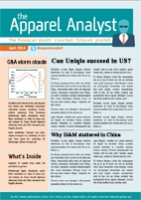 Leeds - The Apparel Analyst, the new publication that filters, analyses and presents key financial information on the global apparel retail sector has been launched by MCL Global, the publisher of Knitting Trade Journal.
Written by economists, analysts and experienced textile journalists, this monthly, 16 page printed newsletter gives a unique twist on the recent financial performance and strategies of key retailers and brands around the world.
Published to meet a clear market demand to cut through the white noise of the internet, the Apparel Analyst delivers concise, tailored, carefully-selected market intelligence, which enables executives to make business-critical decisions.
Each month The Apparel Analyst reports the latest news, in-depth company financial profiles; concise brand snapshots; market forecasts; strategies and direction; senior level appointments; interim and full year results; share price trends; and apparel trade reports.
The first issue features detailed financial analysis on Lululemon, JC Penney, Levi Strauss, Ralph Lauren, Li & Fung, Next, Debenhams, Gap Inc and Fast Retailing. It also has the latest company results, apparel industry appointments, and a look at the slowing Chinese economy and implications for retailers.
To subscribe at ?650.00 per year, receive a sample copy or for further details, contact Helen Taylor at MCL Global - This email address is being protected from spambots. You need JavaScript enabled to view it.