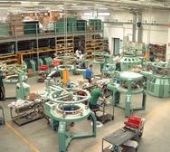 Chemnitz/ Cazzago San Martino - German circular knitting machine builder Terrot has acquired troubled Italian manufacturer Pilotelli, which was involved in court proceedings related to insolvency at the end of 2013. The deal will see the formation of a new company, Terrot Italy Srl, effectively doing away with the Pilotelli brand. Knitting Trade Journal broke the story in March, outlining how Chemnitz, Germany-based Terrot had made an initial move for Pilotelli at the beginning of the year.
Pilotelli entered bankruptcy protection in early October 2013 after struggling for several years, with 2011 losses hitting more than ?1.2 million. In 2012, it is claimed the company posted a loss of ?121,907 and a net cash position of minus ?10.908 million.
For Pilotelli, the deal will now help preserve the insolvent firm?s technological offering while opening up new areas to help it recover its business from the financial struggles it has experienced in recent years. The firm is known for its expertise in single-jersey technology and, although well established on a global scale, is particularly strong in Turkey and South America. For Terrot, the deal represents a major step in its on-going growth strategy.
Under the terms of the deal, production at Pilotelli?s Cazzago San Martino site will continue although the management will be carried out by Terrot owners Mr. Peter Schering and Mr. Andreas von Bismarck together with the management team from Terrot and selected people from Pilotelli. Importantly, the Italian company will now be known as Terrot Italy Srl, effectively doing away with the Pilotelli brand.
Members of the Pilotelli family will also form part of the new organization working in sales, technical advisory and administration departments.
Commenting on the deal, Mr. von Bismarck said he was optimistic about strengthening the company?s portfolio with Pilotelli?s machinery and technology. ?We expect noticeable benefits for our international customers in sales as well as after sales services. Having good expertise in both companies, we will surely complement each other,? he said.
Employees of Pilotelli also welcomed the deal. In a statement, they said: ?We are on common ground with a producer who is not less than equally experienced and motivated to invest in the future of textile machinery and innovative technology. Together we will be strong.?