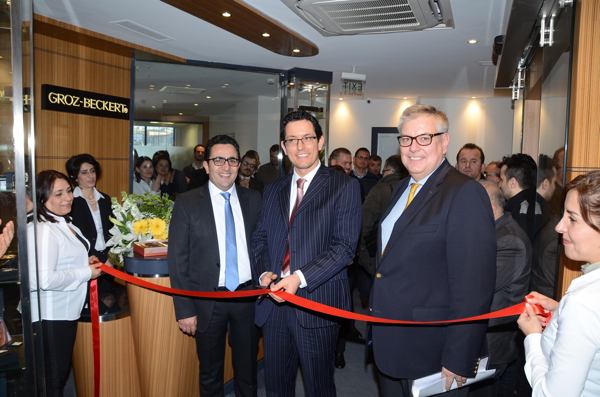 Istanbul - Knitting systems supplier Groz Beckert has opened a new sales affiliate office in Istanbul, a move that underlines the growing importance of the Turkish market in today's global knitting sector.
The new offices were officially inaugurated on 22 January with Groz-Beckert Turkey able to offer its products and services for the knitting, felting, and tufting and sewing sectors. As well as the domestic market, the Istanbul operation will also be in an ideal position to serve the Central Asian markets which are also increasingly important areas for Groz Beckert.
Speaking to more than 80 invited guests, Eric Sch?ller, Member of the Board of Groz-Beckert, said: "We decided to open a sales affiliate in Turkey to optimally meet the requirements of our customers in Turkey and in the Central Asian markets directly on site. These regions have traditionally strong textile markets and kept gaining importance also in the past years."
Following the opening speech, ?zkan Edirne, the General Manager of Groz-Beckert Turkey, invited the guests to take a look around the new location.
Edirne has gained a great deal of experience in the textile sector both in the Turkish textile industry and at different locations of the Groz-Beckert Group. Among the invited guests were employees of Groz-Beckert Turkey with their families as well as customers, partners and politicians.
The full contact details for the new Groz-Beckert Turkey are:
Alparslan ?? Merkezi No: 29/1
34169 Istanbul / Turkey
Phone: +90 212 9246868
Fax: +90 212 9246869
E-mail: This email address is being protected from spambots. You need JavaScript enabled to view it.