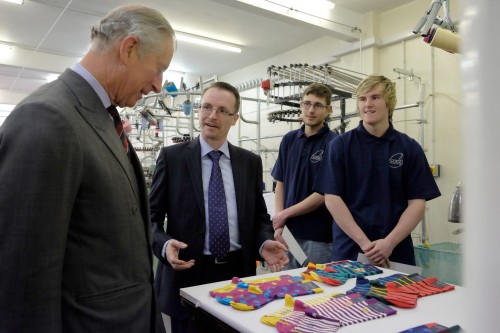 Wales - Corgi Hosiery welcomed HRH the Prince of Wales to its headquarters in Carmarthenshire, Wales last week for the official opening of its new extension, the result of a ?200,000 investment in new premises and knitting machinery that will help the firm meet the growing global demand for its products.
The 3,000 square foot extension also houses a new factory shop and a large storage area to accommodate growing online sales.
Corgi is an internationally renowned hosiery and knitwear designer brand with 70 per cent of turnover exported. Director Chris Jones, who runs the business with his sister Lisa Wood, said turnover has doubled over the past two years with brand recognition at an all-time high.
The Prince, whose Royal Warrant is carried on all of Corgi's socks and knitwear, was given a tour of our new production and distribution facilities and also met with staff and apprentices working in our design, administration and production departments.
The tour included the machine room and linking, pressing and packing areas. He also met some of the apprentices currently training at Corgi as part of the apprenticeship scheme the firm is involved in alongside local college Coleg Sir G?r and training organisation Creative Skillset.
Corgi said it had received a good deal of support from the Welsh Government in recent times which has been invaluable in terms of assisting development and expansion as a company, and in growing the size of the workforce.
Corgi makes an extensive range of hosiery, including hand knitted cashmere socks and on the knitwear side it collaborates with some of the world?s best known designer labels including Ralph Lauren, Thom Browne, Givenchy and Burberry.
The company has benefited from international trade development support from the Welsh Government helping to expand sales in Japan and Italy and embark on new markets in Korea.
?We are delighted to welcome HRH The Prince of Wales back to the Corgi factory today," Mr Jones said. "The business has expanded significantly since his last visit so it?s been good to talk him through the exciting developments that have taken place and to introduce him to our growing team of staff and apprentices.
?We would like to extend our warmest thanks to the The Prince and other members of the Royal family for their continued support?.