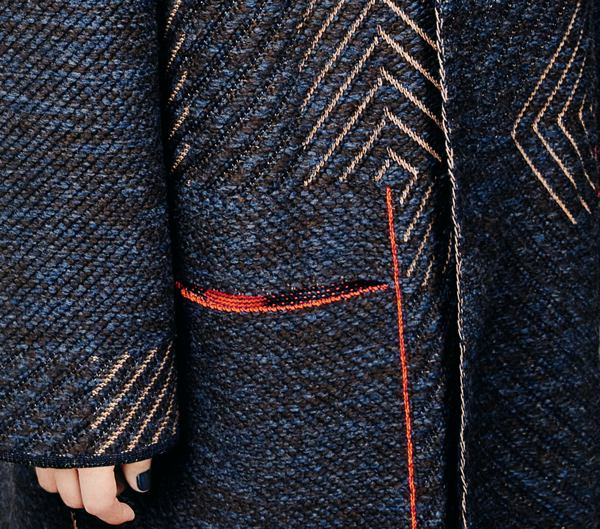 Reutlingen - The latest Capsule Collection from Stoll demonstrates some of the myriad of possibilities of the weft insertion version of the company's CMS ADF 32 W flat knitting machine.
The collection, 'woven stitches' sees Stoll present a new technique; Stoll-weave-in, which encompasses a knitting structure where floats can be interlaced into knits in a weft direction. The outcome is a loom-like knit with loom-like properties, the company says.
This technique is knitted on the new CMS ADF 32 W, which is equipped with a weave-in device and 32 autarkic yarn carriers. Using special yarn carriers, weft yarns for coarse gauges can be woven into a fine gauge single jersey layer bringing out what is described by Stoll as amazing coarse and fine weave-in effects.
The new Capsule Collection will be published at the end of May.
The new Stoll ADF 32 W, multi gauge machine, which includes an integrated presser inlay system for weft reinforced fabrics allowing woven like fabric appearances and reinforcements without restricting the versatility of the Stoll ADF machine generation.
According to Stoll, what makes the CMS ADF-3 so versatile is its advanced yarn carrier technology, which is based on 32 motorized yarn carriers. These carriers move independently from the carriage and can position themselves vertically or horizontally. Positioning is controlled by the pattern program with these configurations opening up almost unlimited possibilities for the user regarding patterns and color combinations.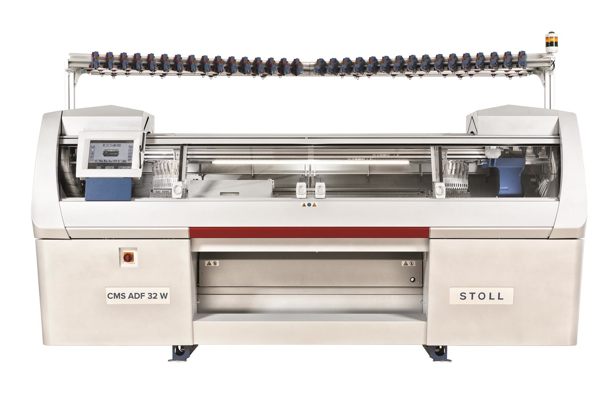 When it comes to plating, the benefits of flexible yarn carriers are particularly noticeable as its inverse plating allows you to create any conceivable color combination. With intarsia plating, color nuances can be added to individual or multiple pattern areas. The CMS ADF-3 also enables color fields of less than 1" to be knitted.
Stoll also highlights the machine's efficiency, which is boosted by more effective knitting sequences that reduce the stroke. Faster retrofitting times when changing patterns lower the machine's downtimes considerably.
Even its ergonomic improvements have generated several benefits for the user, who, Stoll believes, are sure to appreciate them when working with the machine on a daily basis. These include the sliding bobbin board and the V-shaped yarn control (installed in a low position to ensure that the yarn carriers don't cross each other) amongst others.