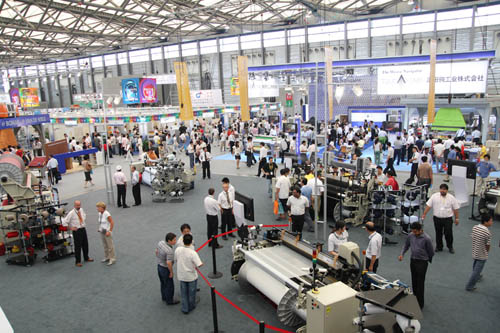 Shanghai - Textile machinery manufacturers have been booking space at this year's ITMA Asia + CITME exhibition at a brisk pace with over 90 per cent of the 180,000 square metres of exhibition space now sold.
The exhibition will be held from 21 to 25 October in Shanghai, China and is expected to feature over 1,500 domestic and international textile machinery manufacturers from over 26 economies who will showcase advanced solutions and energy efficient machinery and processes.
Chinese exhibitors make up the biggest country group, booking over 65 per cent of the total exhibition space. The other top participating economies are Germany, Italy, Japan, Switzerland and Taiwan.
According to Charles Beauduin, President of CEMATEX, the enthusiastic response for the fifth combined exhibition proves that the Chinese marketplace, with its vast hinterland, still presents great business opportunities. "The high level of interest from exhibitors has reaffirmed ITMA Asia + CITME as the leading marketing platform for textile machinery manufacturers seeking to tap the China market," he said. "We are pleased to provide them with a recognised platform for their strategic promotion and will ensure that the combined show continues to be a relevant and effective platform for sellers and buyers to transact business and to take advantage of the vast potential that China offers."
Exhibits at the combined exhibition are organised into sectors based on manufacturing processes such as knitting, spinning, weaving and finishing with the nonwovens sector experiencing a 20 per cent increase from the last combined show in 2014.
Optimism for a successful show is also high. China is continuing to expand its infrastructure construction sector, accelerate urbanisation and increase awareness of the environmental protection under the government's 13th Five-Year Plan period (2016-2020). It is expected that demand for technical textiles and nonwovens products in particular will rise in the coming years.
Said Mr Gu Ping, Vice President of China Textile Machinery Association (CTMA), "As China's textile industry continues its transformation, the demand for advanced machinery and technology is on the rise.
"For textile manufacturers to keep ahead of the industry, they need to readjust their strategy to enhance overall production efficiency. They should adopt a longer-term outlook to focus on the quality of their products which will ultimately contribute to their company's bottom line. This will lead to a demand for new machinery and technology to modernise and upgrade their existing textile equipment."
ITMA Asia + CITME 2016 will be held from 21 to 25 October 2016 at the new National Exhibition and Convention Centre (NECC) in Shanghai. Located in the Hongqiao business district, the venue features state-of-the-art facilities and easy accessibility.
The combined show is owned by CEMATEX and its Chinese partners – the Sub-Council of Textile Industry, CCPIT (CCPIT-Tex), China Textile Machinery Association (CTMA) and China Exhibition Centre Group Corporation (CIEC). It is organised by Beijing Textile Machinery International Exhibition Co Ltd and co-organised by MP Expositions Pte Ltd. The Japan Textile Machinery Association (JTMA) is a special partner of the show.