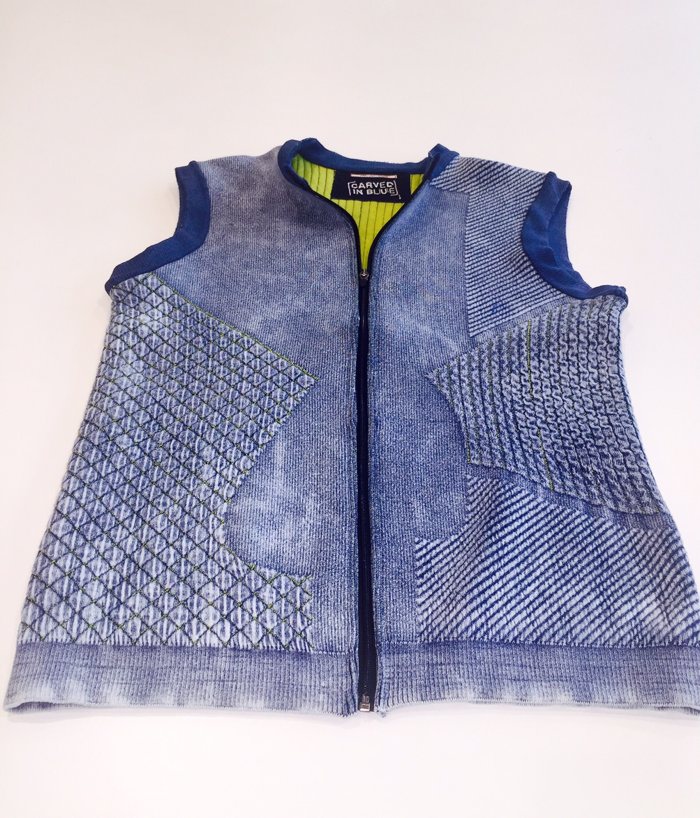 Brescia - A collaboration between seamless knitting machine manufacturer Santoni and fibre manufacturer Lenzing has resulted in a new knitted denim project.
Santoni's previous co-operation with Lenzing focused on the knitting of a new one-piece denim garment that fitted the rapidly evolving lifestyle concept. This "just-in- time" semi-finished garment was tailored for the ever fast-changing fashion world.
According to Santoni, the idea of innovative knitted denim as a contrast to the traditional woven denim fabric highlights the product concept as it combines 'Denim's Soul' with sportswear's Athleisure performance features.
The new project involves the knitting of an innovative denim double-face quilted fabric produced by Santoni's Double Jersey circular knitting machine the Mec-Mor CMP and Lenzing's Tencel fibre.
The Mec-Mor CMP, with open variable panel (Variatex technology) is a circular knitted garment length machine complete with rib border separation. It offers both high quality finished items, and high-level productivity with its large number of feeds. One single machine can produce all sizes without waste by means of the variable width of the fabric panels that allows the exact number of working needles to be selected for the required size of product.
Now available in up to 20G, it is described by Santoni as the "only more efficient and profitable alternative to the flat-bed knitting machine".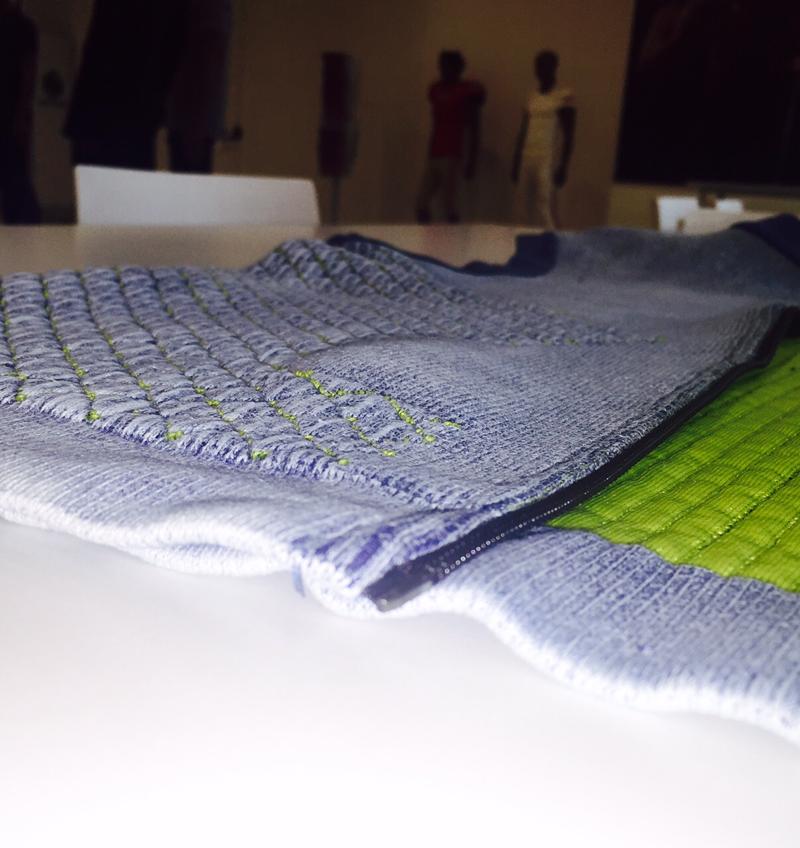 Tencel is the sustainable lyocell fibre derived from wood pulp with only wood from certified or controlled sources used. This closed loop production system means the fibre production process is extremely ecofriendly and has received numerous certifications and awards including the European Award for the Environment and Oeko-tex.
However, textiles made of Tencel are not only sustainable, but also soft and comfortable. The yarns, supplied by Unitin, can be smoothly knitted on Santoni seamless knitting machines while the garments can undergo the same traditional indigo dyeing process used for denim fabrics. In fact, indigo garments obtained with this innovative and alternative process will fade with wear and wash resulting in a unique appearance exactly like all indigo garments.
"The new totally-reversible seamless denim quilted jacket produced on this machine provides greater comfort due to its dedicated areas of increased fit and well-being as determined by the use of embedded indigo Tencel fibre and elastomers to give higher elasticity and flexibility," says Santoni. "The multi-layered seamless knitted panel consists of three layers of different yarns with a reverse use. The resulting quilting effect is obtained directly on the machine by specific stitches that hold the two layers of fabric, together this produces a thickness in the fabric, so creating a quilting effect which increases the profile of the relief when compared to the rest of the fabric, giving a unique change in its texture."
Santoni also points out that extra decorative patterns may also be added to the surface to create unlimited three-dimensional technical effects and design. Separate reinforced points can also be inserted.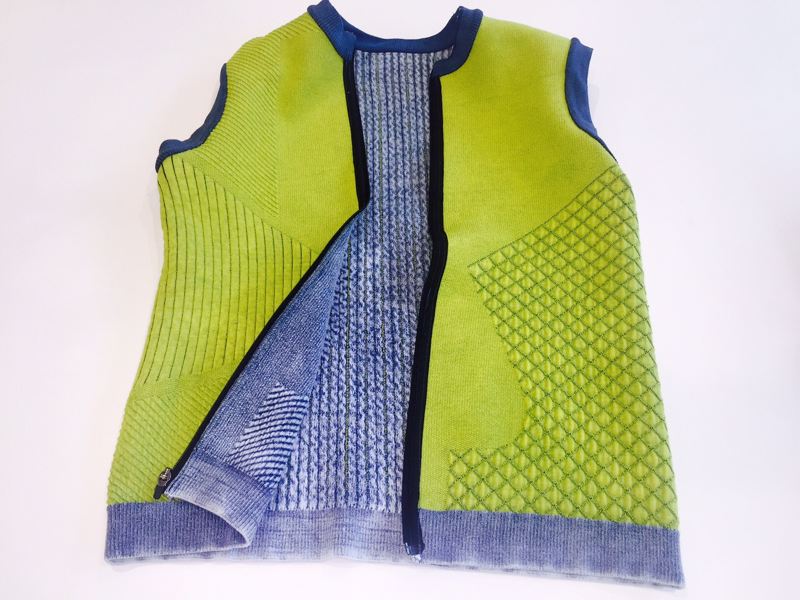 "Each side of the panel can be the front layer, allowing for either an active or a smart-classical denim jean look," Santoni adds. "The totally reversible quilted jacket knitted on the Mec-Mor machine provides superb comfort due to its seamless characteristics. The border is not sewn as it is integrated into the fabric panel as well as incorporating the pockets.
"It is a double-faced jacket that can have various patterns and logos directly knitted into it by the machine. These designs have a very high resolution thanks to the fine inherent 20G characteristics."
For further details go to www.santoni.com or www.carvedinblue.lenzing-fibers.com