Munich - The collaboration between seamless knitting machine manufacturer Santoni and fibre manufacturer Lenzing, which created the innovative den/IM knits with indigo yarns, has taken a further step from apparel applications into the shoes and accessories sectors.
Under the headline den/IM TECH, the two partners will debut the concept at the upcoming Munich Fabric Start exhibition with a booth in the Bluezone Keyhouse. Products will include a seamless concept shoe and a 3-D super-performing backpack.
"This new den/IM TECH capsule project captures the most important features of our technology - versatility, sustainability, and technical performance," Santoni marketing manager Patrick Silva said. "In the past, we focused mainly on apparel. Today, we look forward to the future with its unlimited potential to introduce 3-D performance in completely new markets such as footwear and accessories."
The aim of the Santoni-Lenzing venture has been to further highlight sustainability and efficiency whilst at the same time upping the ante in product performance.
Lenzing fibres, derived from wood, possess some of the most sought-after properties, including high strength, and an exceptional ability for moisture transfer - key features of the den/IM shoe and backpack.
"Especially for shoes, moisture management and breathability are very important criteria, as they contribute to a good microclimate in the shoe," Birgit Schnetzlinger, Lenzing's Business Manager for Footwear, said. "The more components are made with Tencel Lyocell fibres, the better the performance, and also the better for our environment."
Santoni Spa, known for its seamless knitting and speedy, efficient, reliable construction, used two machines for these projects—the X Machine, developed for footwear, and Mec-Mor, the only machine on the market with needle-shifting movement.
The electronic X Machine supports 3-D patterns and can knit countless intarsia items for seamless shoe uppers. It maps different areas according to type of yarn, producing a final product ready for application of the sole. Production time is just five to seven minutes per piece, with infinite patterning and colour possibilities, including 3-D areas and eyelets for laces.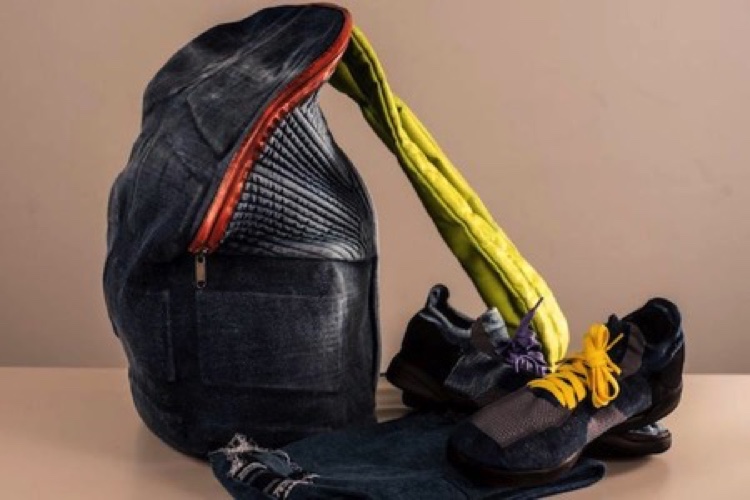 For the backpack, Mec-Mor's versatile Variatex technology produces a variable fabric panel for weft-knitted garments. Its multiple feeds allow for high capacity production in short time periods, and fabric scraps are almost non-existent. Mec-Mor's s ability to vary panel width and number of needles also allows for customization and exact measures and quantities. The fabric can be "mapped" with different structures and yarns: four areas mix different technologies and knit various yarns into ad-hoc positioning.
The backpack's outer part is knitted with natural yarns for a soft hand and thermoset for rigidity and protection. The inner has high-tenacity polyester yarns in addition to indigo dyed Tencel Lyocell yarn, provided by Unitin in Spain, to ensure resistance and anti-rubbing - features inserted in a "quilted" effect that adheres to the user's back, absorbing movement for superior comfort. The backpack can be customized with designs and logos. Laser treatments have been provided by Tonello, Italy.
"Our collaboration with Santoni clearly demonstrates the creative designs that result when exceptional performance fibers combine with industry-leading seamless technology," added Tricia Carey, Lenzing's director of global business development.