Albstadt - The latest software developments from circular knitting machine builder Mayer & Cie are geared towards high productivity and high performance in knitted fabric production.
Brought together under the name knitlink, the Albstadt-based firm has developed a platform that includes a web shop, remote maintenance options and the recording and evaluation of machine data for the customer.
The benefits of this system were outlined recently by Sebastian Mayer, head of R & D at Mayer & Cie, who told the Reutlingen Chamber of Industry and Commerce (IHK) event on the Industrial Internet of Things ((I)IoT), that the opportunities digitization offers enables the company to come much closer to its customers both technically and organizationally.
Mayer explained how, made in Albstadt and shipped to customers all over the world who manufacture knitwear, Mayer & Cie circular knitting machines are in use from Australia to Argentina. "Via our 80 or so local representatives we managed to maintain at least a limited overview of the whereabouts of our machines," he said. "But indirect contacts between manufacturer and users led to the loss of a great deal of "systematic" and valuable knowledge. The opportunities digitization offers enable us to come much closer to our customers both technically and organizationally."
During his presentation, Mayer told the digitally savvy audience how knitlink, the machine- and web-based customer portal on which the textile machinery manufacturer provides a hub for information, data and services about and for circular knitting machines and their uses, is also starting point for new business models. He also explained how knitlink currently consists of three modular apps, including a Web store for spare parts that is scheduled for further development. "We see ourselves as leaders in our area of textile machinery manufacture," Mayer said. "Our claim to leadership extends far beyond the technical aspect. If we are to serve our customers satisfactorily also in the future we need efficient processes and a digital infrastructure to match them."
knitlink is available for a range of Mayer & Cie machines including the recently launched OVJA 2.4 EM technology. Fully electronic, this machine produces up to 30 kilograms of fabric per hour which, the company says, demonstrably makes it the most productive machine of its kind in the world. It also scores points for ease of use and the variety of patterns it can produce.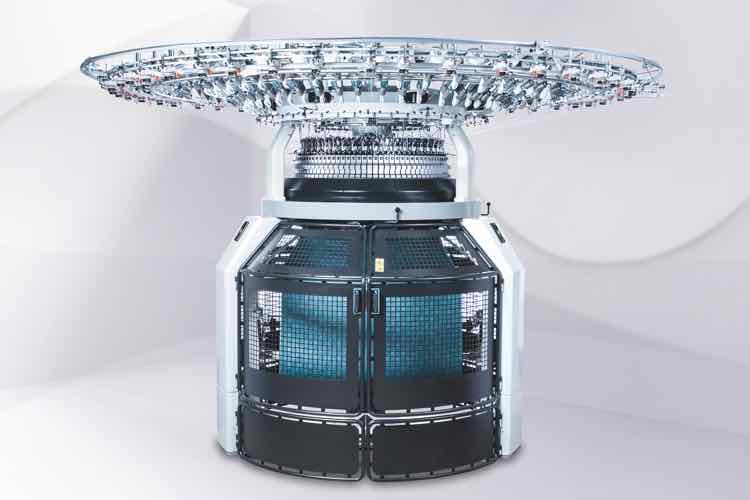 This high productivity model has a key focus on maximising output, which, with a speed factor of 950, is achieved by means of a combination of a larger number of knitting systems and a higher rotation speed. In addition to high productivity the OVJA 2.4 EM's impressive features include ease of use and a wide range of patterns. The horizontal weft yarn guide on each cylinder segment ensures even, easy operation, short changeover times and a high level of reliability.
Thanks to the improved thread guide and the air-controlled thread fluctuation control system the thread tension remains constant even at high speeds. This keeps thread vibration to a minimum and the thread is transported safely to the needles. Despite the high productivity, the especially gentle needle guidance ensures an unusually low level of needle wear and tear. At the same time the OVJA 2.4 EM offers a wide range of designs that can be changed very quickly thanks to electronic single needle selection in the cylinder.