At ITMA 2023, Pailung exhibited its latest high-speed circular knitting machines, which deliver more production capacity with less energy consumption, effectively boosting textile manufacturers' productivity while lowering their costs.
Textile manufacturers have to improve their efficiency. They're under constant pressure to produce more, faster, and for less cost. Although that might seem difficult, it is now possible thanks to new innovations in high-speed circular knitting machinery.
Lately, Pailung has been collaborating with its customers to build faster and more efficient knitting machines. After months of discussion, which led to a number of major improvements, they have just finished testing the new machines and the results are in.
Pailung exhibited six new high-speed circular knitting machines (from the Knitel series) at ITMA 2023, the world's largest textile and garment technology exhibition in Milan.
Pailung's Optimized High-Speed Knitting Machines
KS3B PLUS HS
The KS3B PLUS HS is a circular knitting machine capable of producing six popular fabric types:
Plain Single Jersey
Plain Single Jersey + Lycra
Pique
Pique + Lycra
2 Yarns Fleece
2 Yarns Fleece + Lycra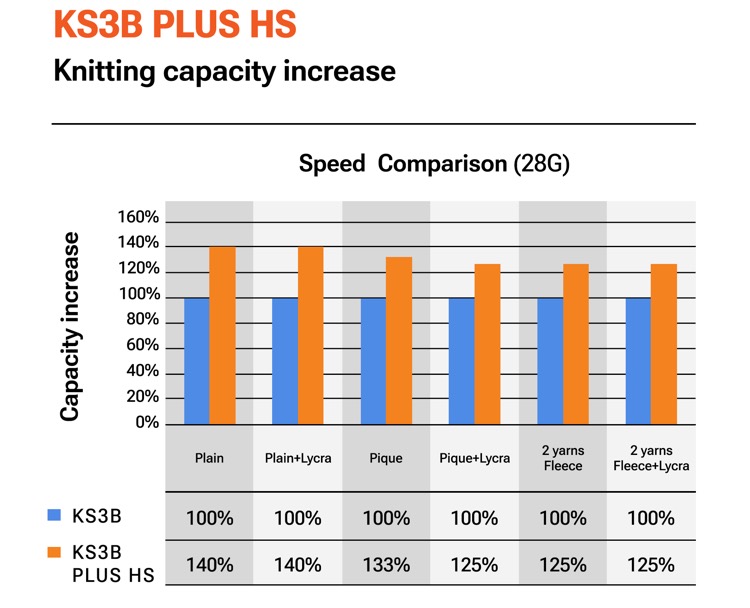 Compared to its predecessor, the KS3B, this machine offers even higher speeds, and lower energy consumption at top speed. Operating at 45 RPM, this machine consumes less energy than the KS3B consumes at 32 RPM, and produces up to 40% more fabric in one day.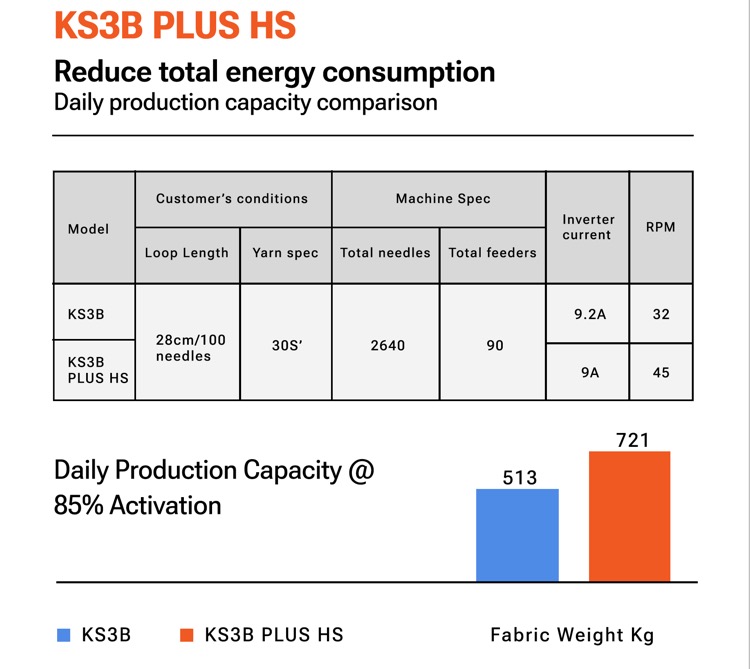 KS3B PLUS HS stands for high speed. Whereas the KS3B could only reach a max speed factor of 960, the KS3B PLUS HS reaches a max of 1350. It is capable of producing the same six popular fabrics as KS3B, but 25-40% quicker, resulting in a massive capacity increase. To boost versatility, the machine can be modified using a conversion kit to further produce Terry and 3-End Fleece fabrics.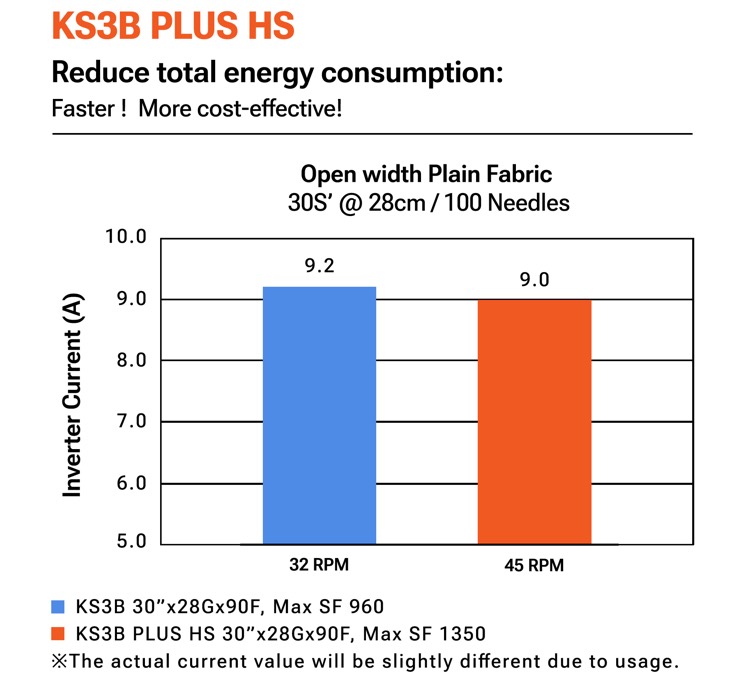 KD3.2B PLUS
The KD3.2B PLUS model produces the following six
popular fabrics:
Interlock
8 Lock
4-Way Stretch
Scuba
Swiss Fleece
Spacer
This high-speed Interlock circular knitting machine specs a 2+4 track, 26"-42" cylinder, and a 22-32 gauge setup. It produces the above-mentioned six fabrics at higher capacity compared to its predecessor, the KD3.2B. For example, when knitting Interlock, 8 Lock, and 4-Way Stretch fabrics, the 28G KD3.2B PLUS has a capacity increase of around 25-33%.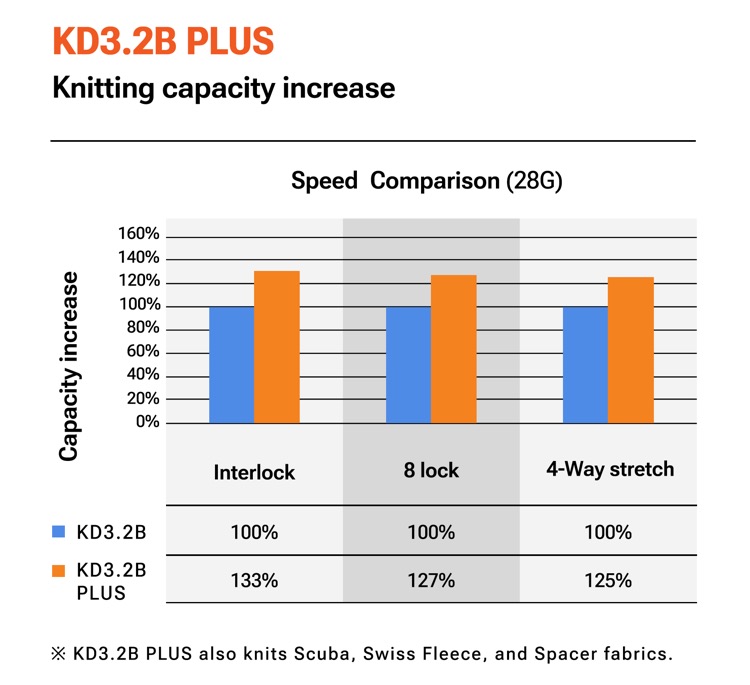 KF3B PLUS
This machine produces 3-End Fleece and specs a 13"-40" cylinder, 14-28 gauge setup. It produces 3-End Fleece at an average 19% capacity increase compared to its predecessor. For example, when producing 20G 3-End Fleece, the capacity increases by 25%.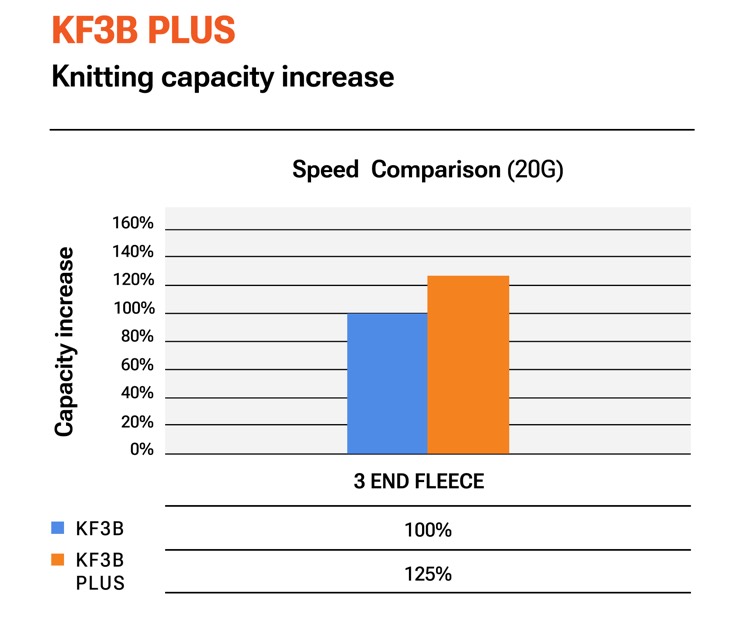 KSP PLUS
This machine is a high-speed Terry (ordinary plating) circular knitting machine that creates fabric with a pile height of 1.2mm-2.8mm. It has improved greatly, with 25% capacity increase at 20G, and 30% capacity increase at 28G, compared to its predecessor.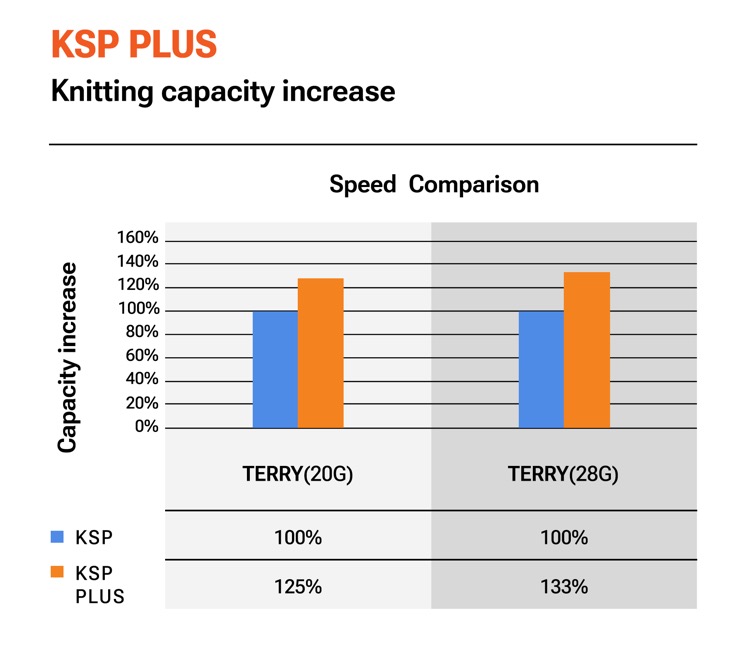 For further details go to: http://www.pailung.com.tw/