Castle Donington - A collaboration between Shima Seiki Europe and the Worshipful Company of Framework Knitters has provided final year students from three UK universities to receive a bespoke training course on the Shima Seiki SDS-APEX3 Total Design System and Shima Seiki knitting machines.
Two 3rd year students from each of Herriot Watt, Huddersfield and Leeds Universities were selected by their Course Leaders to receive the training on the University Student Training and Development project.
The aim of the project is to provide each student with industry specific training that they can use further on in their careers either in manufacturing or retail and secondly to enable the students to actively help and support the Lecturers back at University with the use of the Apex system and the programming/knitting of swatches, garments and other products for all students through to the final collections.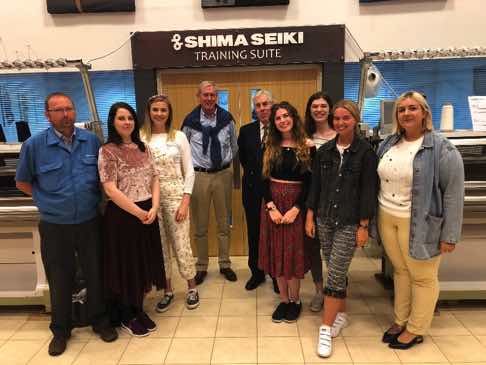 Included is tuition on the use of Knit Paint, Design Applications and machine settings/operation, at Shima Seiki Europe's Head Office based in Castle Donington, Derbyshire.
As Shima Seiki notes, the project would not have been possible without the support and joint funding from the Worshipful Company of Framework Knitters and Shima Seiki Europe. The Framework Knitters were bequeathed monies from Hatra and they see the support and development of the next generation of knitwear designers as one of their key priorities. As such they would like Hatra to be recognised for the role they have played in making this project happen.
Richard Webster, General Manager Shima Seiki Europe, said: "It is important to help develop the designers of the future, digitalisation of many processes is now key to business success so it is a pleasure to be able to support this project."