Reutlingen - The upcoming ITMA exhibition will the ideal platform for Germany's flat knitting machine builder Stoll to present its latest raft of technical innovations.
For the first time, Stoll will present the new knitelligence machine generation as well as the latest innovations and developments within the fields of Fashion & Technology, Technical Textiles and knit and wear.
Furthermore Stoll will present a production process using a combination of its knitelligence and Stoll-knitrobotic technologies.
"The new knitelligence machine generation takes you into the future of digitization," the company says. "Tailored to the specific needs of the digital world, this generation facilitates work through process automation, more transparency, shorter response times, shorter production cycles, and higher productivity.
"Based on knitelligence and the latest innovation, Stoll-knitrobotic a fully automated production process will be presented. At the end of the process, visitors can take home a finished knitwear piece with an individualized motif as a souvenir."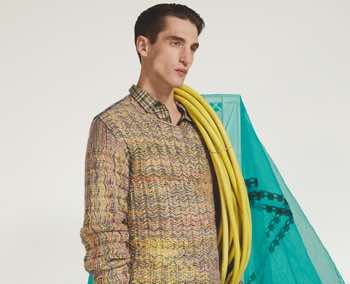 The new Stoll Trend Collection, Materialization, will also be on show as part of the Fashion & Technology sector. This collection, says Stoll exemplifies and impressively demonstrates the variety of materials that Stoll technology supports. In addition to the commercially available yarns, Stoll also worked with yarns that are unusual for the knitting industry – representing a solution to a major challenge of flat knitting technology.
These yarns include used plastic bags, silver foil, and jute bags that have been utilized to knit luxury products – the inspiration here being the concept of up-cycling.
In the Technical Textiles sector, Stoll will highlight the steady market growth of technical applications and implementations. It will present various demanding technical applications on the CMS 530 ki W in gauge E7.2. Other technical applications will include TT home, TT med, TT mobility, TT e-tex and TT sport.
In field of knit and wear Stoll will present the ADF 830-24 ki W knit and wear and CMS 830 ki knit and wear.
The ADF 830-24 ki W knit and wear offers even greater flexibility in coloring and patterning which in turn leads to greater productivity. This version of the ADF has been designed to offer the entire spectrum of technology and functionality in the knit and wear range.
The second machine from the knit and wear family is the CMS 830 ki knit and wear. This machine is billed as a high-performance, basic machine with an excellent price-performance ratio. In addition to the enhancement of the intarsia capability, the CMS 830 ki knit and wear offers e gauge E9.2 making it an economical, entry-level machine for flexible use, both for conventional production and knit and wear divisions.
Stoll can be found in Hall H8.0, Stand D201.