Shanghai - Flat knitting machine builder Stoll has officially opened its new Knitting Training Center in Shanghai, China.
The Stoll Knitting Training Center is an educational platform created by a joint venture between the Shanghai International Fashion Education Center (SIFEC), Stoll/Chemtax and Shanghai SANDA University (SANDA).
The new centre is dedicated to training knitting design talents in 'art + technology' while also exploring the educational mode of combining production, learning and research.
"The Knitting Training Center is not only a cooperation platform, but also the service platform for providing knitting design talents with further education and product development in Shanghai and the Yangtze River Delta Region," Stoll said. "In the future, Stoll Knitting Training Center will provide training to teachers, designers and technicians from the knitting industry with a goal of knitting knowledge transfer."
The unveiling ceremony, sponsored by Stoll & SIFEC·SANDA, was held at the facility at the SIFEC on 9 September alongside a seminar on 'knitting design and knitting trends from 2020 to 2021'.
Guests were invited to the Stoll Knitting Training Center to hear opening speeches followed by a visit to Centre and the Hand Knitting Training Room.
SIFEC
With a background in the Orient International Group (Shangtex Group), SIFEC is one of the few fashion education institutions with a complete fashion industry chain background. It has a powerful team consisting of educational experts and teachers in textile and clothing industry and offers a brand new development model for the ideal combination of novel fashion concepts and experience education.
To develop fashion special training, the SIFEC holds a close and long-term cooperation with Istituto Marangoni, Bunka Fashion College, EAC Parsons, ISAL and other world-famous fashion education institutions. The aim is to cultivate elites for the fashion industry through resource sharing.
In order to provide the society with college graduates, SIFEC and SANDA University set up a university-enterprise cooperation in 2009 - establishing a secondary school Fashion College to develop academic education pertaining to Apparel and Accessories (specialty) which includes knitting fashion design.
In 2019, SIFEC also established a knitting training room (first-stage) to support professional knitting-oriented teaching.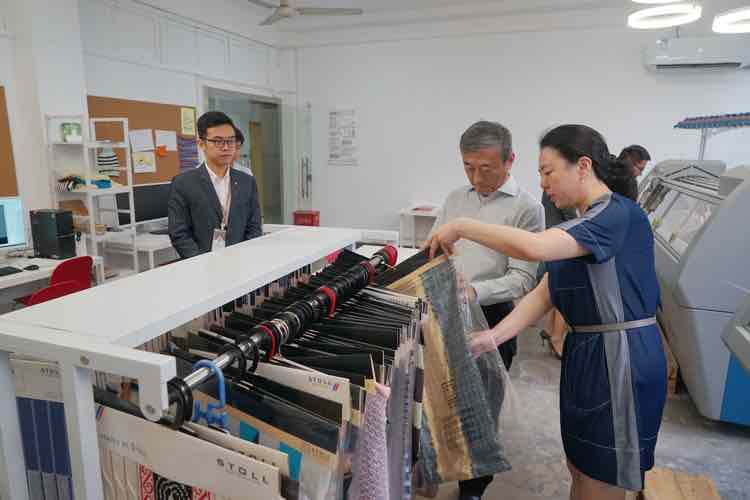 SANDA
SANDA University is a full-time private comprehensive university providing undergraduate courses in China with the official ratification of Ministry of Education. It was listed as Shanghai Model Private University Candidate by Shanghai Education Commission, and was also one of the first members of China
Association of Universities (Colleges) of Applied Sciences and one of the first members of National Association of Non-profit Private Universities and Colleges. The university has received numerous awards.
Stoll
Stoll AG & Co. KG, with headquarters in Reutlingen (Baden-Württemberg, Germany) is one of the world's leading manufacturers of flat knitting machines. The long-established company was founded in 1873 and has 1,000 employees around the world. The Stoll brand portfolio includes flat knitting machines and pattern software that are used to produce fashion and technical textiles.
Stoll exports its products to more than 50 countries worldwide. With a network of subsidiaries, sales and service centers and numerous agencies, Stoll offers a fully integrated service package.