Castel Goffredo - Textured and covered yarn specialist Fulgar is striving to play a key role in the drive for greater innovation and sustainability in the Italian hosiery industry.
Fulgar is a major player in the synthetic fibre sector, producing and distributing nylon 66 and covered elastomers in the textile and technical fabric sectors. Founded in the late 1970s at Castel Goffredo (Mantova), the heart of Italy's hosiery region, Fulgar has carved out a position as sector leader on the international scene, confirming its international approach in recent years with a host of new production centres and installations.
"Technological innovation and sustainability – these are the crucial qualities driving the economic recovery and our response to the challenges of the future, especially in the textile world," the company says, noting that Italy's hosiery sector has not been slow to respond to these challenges.
In fact, it's fair to say that focus on sustainable solutions is now, more than ever, a distinctive feature of the sector's operations. Fulgar is also confident that sustainably produced hosiery items are increasingly in demand in the current climate with consumers developing a greater awareness of these issues during the coronavirus pandemic. "These changes also involve hosiery, developing at an even faster rate with cutting edge proposals that combine style, functional benefits and respect for the environment," says Fulgar.
Trend
Alessandro Gallesi, president of the ADICI – the Hosiery and Intimate Wear District Association agrees with this trend. In fact, Gallesi goes so far as to say that the transition towards eco-sustainable fashion and textiles is now irreversible. "The global pandemic, with all its implications for changes in lifestyle, behaviour and purchasing choices has generated a more intense awareness among consumers, especially younger ones, who are the main driving force behind corporate growth (in 2020, 63% of consumers chose sustainable products, against 29% in 2019 – research by PwC)," he says. "Companies looking to the future must take this trend into account when creating their products and their commercial and communications choices. It is set to be increasingly important, starting with the raw material used."
Fulgar says it has taken up this challenge, adding a green emphasis to its research and innovation and making a commitment to sustainability in all stages of the production process.
The company's role is reflected by its constantly expanding, eco-sustainable product portfolio which includes products such as EVO, a bio-based yarn made from castor oil, Q-NOVA, a fibre made from regenerated raw materials and Amni Soul Eco, a biodegradable polyamide.
Many Italian and international hosiery brands have already chosen these are other technologically-advanced sustainable yarns from Fulgar for their latest collections.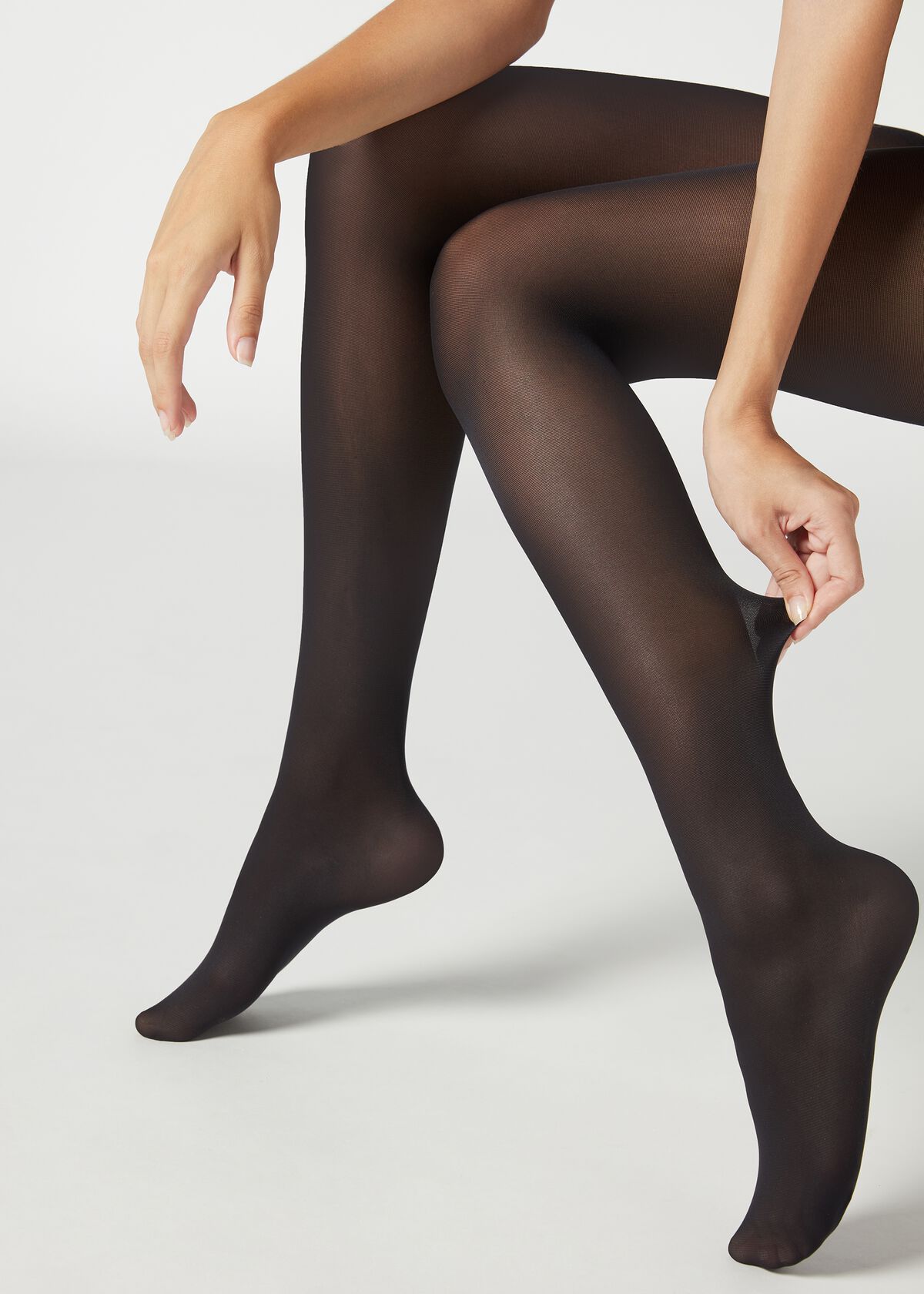 Calzedonia (pictured right), for example, is this season once again renewing its sustainable tights, leggings and socks line by choosing Nylon 6.6 green Q-NOVA, the 100% Made in Italy eco-sustainable polyamide 6.6 yarn obtained from regenerated raw materials. It is Global Recycled Standard (GRS 2015-005 certified by ICEA) and EU Ecolabel certified.
Elsewhere, Sarah Borghi, a luxury Italian-made hosiery brand known for cutting-edge style and materials research has chosen to extend its offer, presenting tights capsule of high quality and superb design – the Green Collection - demonstrating that "The Italian product can finally also be eco-sustainable".
This is achieved through the use of Amni Soul Eco biodegradable yarn by Fulgar, which combines new-generation sustainable yarns with outstanding comfort and durability. As well as using Amni Soul Eco, Sarah Borghi has also included other Fulgar products like EVO and Q-NOVA in its Green line.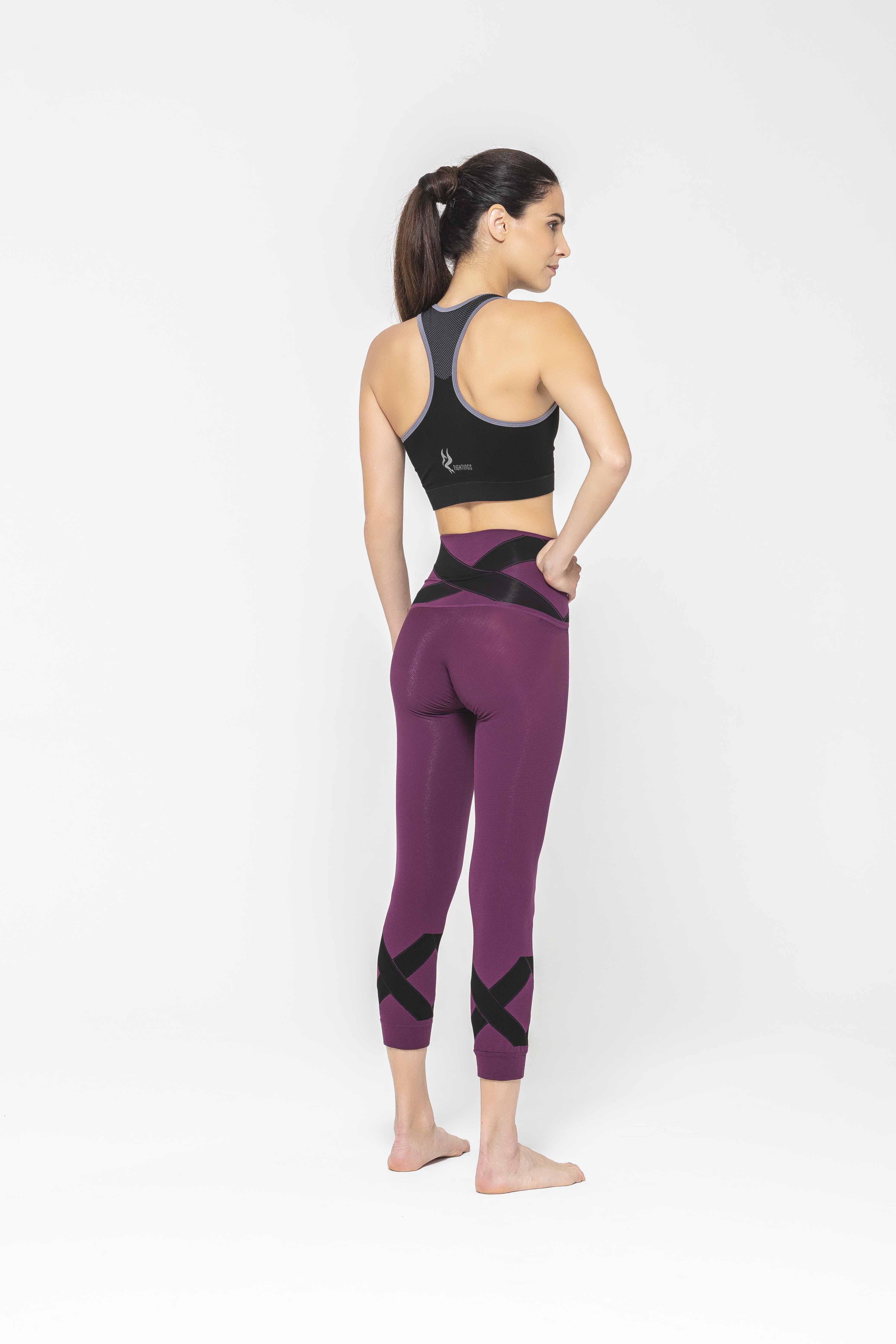 Tightings, a contemporary brand launched by the Mantova-based Duelegs Bbf Group, offers a perfect fusion of latest-generation seamless tights and timeless leggings. For this season, the company has chosen Fulgar's EVO yarn for its Celeste model (pictured), derived from sustainably-grown castor oil seeds, and has selected Fulgar's Q-NOVA fibre for its Ambra line, successfully combining looks, comfort and environmental awareness.
Q-NOVA recycled fibre was also the choice of Calzificio Schinelli, an established producer of high-quality Made in Italy hosiery, for its Eco Hosiery line of environmentally-aware tights with a contemporary style while Donna BC, a brand that is part of the Mantova-based Calze B.C. group, has chosen Q-NOVA and EVO to extend its offer of products using eco-friendly yarns.
This wide ranging use of Fulgar's sustainable yarn portfolio comes as no surprise to Massimo Bensi, president of CSC Enterprise, a services company that offers training, consultancy, testing and fashion advice to the region's hosiery sector. "In recent years there's been a lot of talk about green issues and marketing based on sustainability without attracting a great deal of interest," he says. "Now it's become a hot topic for everyone. Consumers are looking for these values in the products they buy. Hosiery producers in the district always place an emphasis on innovation, and they have invested a lot of money in new, low environmental impact technology and materials. All companies have included green items developed and produced in our district in their fashion collections."
His colleague, Davide Bonassi, Director of the CSC Enterprise Services Centre, agrees, offering an invitation to those companies interested in developing their environmentally friendly portfolio. "Our laboratory and our skills are available for the district to support companies in developing increasingly sustainable and environmentally respectful products," he says. "Certifying products and processes is an investment that encourages confidence among our commercial partners and end clients."
For Fulgar, this take-up of its products by companies striving to meet the demand for greater sustainable products is a clear substantiation of its work over the last decade and its investment in R&D. "A commitment to environmental issues has also contributed to our success, expressed through projects and initiatives involving the entire production chain and sustainable products," the company says.
Fulgar is now present in all sectors of the textile industry, from hosiery to circular knits, intimate wear, beachwear and sportswear, offering products, it says, that stand out for their quality and uniqueness, while always respecting Made in Italy textile tradition.
The company is also the exclusive distributor in Europe and Turkey of the Lycra Fibre, Lycra T400 and Elaspan Fibre brands. In 2012 Fulgar also forged a partnership with the Solvay group, becoming distributor and producer of Emana fibre, Amni Soul Eco and Q-Skin powered by Amni Virus-Bac Off mainly for Europe, North Africa and the Middle East. The intimate link between sustainability and innovation that underpins the company's work has also led to the introduction of its latest polyamide with antiviral and anti-microbial properties, a crucial priority for the textile industry in the era of Covid-19.