Brescia - As Santoni revamps its warp knitting technology, Knitting Trade Journal explores where this latest development fits into the company?s world of seamless garment manufacture.
Renowned for its seamless knitting technology, Santoni launched the original SWD8 double needle bar warp knit machine at its own exhibition in 2008. Now, 12 months on, visitors to the company?s headquarters at this month?s Santoni Days event were among the first to see the new SWD4/2J, which has been designed for the production of warp knitted seamless garments for both underwear and outerwear.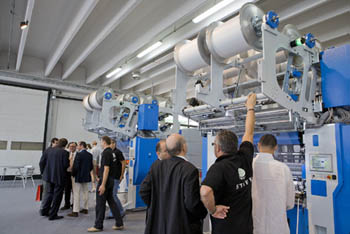 On entering the room at Brescia headquarters, the first thing that struck me about the SWD4/2J was that it has a more compact design than the original model. With dimensions of 2300mm wide x 3110mm deep x 3200mm high, this may not seem significantly smaller than its predecessor, but with knitting mill owners, often operating with limited space, needing to be as efficient as possible in terms of production capacity, just a few centimetres can make all the difference.
Log in or subscribe to see this content