Hong Kong ? After several months of delays, knitted fabric and garment manufacturer Fountain Set has finally started production at its new Yancheng fabric mill with a view to gradually increasing capacity to over two million pounds per month over the next year.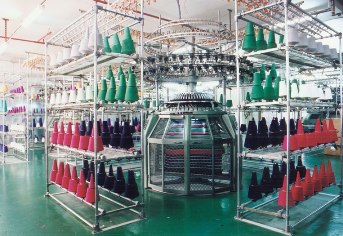 The opening of the Yancheng Fuhui Textiles plant, located in Yancheng City, Jiangsu province, was postponed in May of this year because of ongoing weaknesses in demand and continuing uncertainty for the remainder of 2009. However, after closely monitoring market conditions and its clients' future orders, Fountain Set has now begun equipping the mill with the latest circular knitting technology.
Fountain Set is one of the world?s largest producers of knitted fabric in Asia and probably operates one of the largest bank of Fukuhara circular knitting machines in the world. The company also uses a range of Stoll flat knitting machines for the production of trimmings. The new mill at Yancheng, which is also well equipped with machinery supplied by the Group?s subsidiary Jiangyin Jintian Machinery, will also be able to share resources and overhead costs efficiently with the plant at nearby Jiangyin and during the first six to twelve months of operation will have a dyed fabric production capacity of around two million pounds per month.
Reporting a 19.1% increase in second half turnover compared to the first six months, the Yancheng site could not come at a better time for Fountain Set. Over the last few years, the company has identified two key opportunities for driving future growth. Firstly, volume increase in demand for its high quality knitted fabrics from existing and new clients in the US and the EU as they relocate more sourcing of textile products to Asia from other regions. Secondly, the Group has also strategically targeted new clients in China as the local consumer preference shift towards better product quality and innovations.
According to Mr Ha Chung Fong, chairman and managing director of the Group, the new plant will provide enormous potential for further expansion both in China and overseas once the market recovers fully. ?The Group will continue to strategically target new clients in China,? he said. ?As the local consumer preference shift towards better product quality and safety, our domestic sales have shown continuous improvement since the launch of the ?fabric by Fountain Set? brand which was actively showcased in various trade shows in China over the past few years.
?We anticipate that our domestic sales for textiles and apparel in China will continue to increase over the next few years.?
For the full year, total revenue at Fountain Set was down 10% to HK$5,451 million.