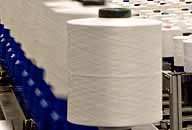 Greensboro - A gradual shift in the overall sourcing cycle of commodity knitwear from Asia to the Americas has seen textured yarn maker Unifi respond with the creation of a new division in Central America.
Called Unifi Central America, the unit will be based in El Salvador and joins other established sourcing divisions in the US, China, Columbia and Brazil.
Over the last couple of quarters, Unifi has experienced increasing demand for its products from its domestic US sector and particularly the Brazilian and Central American markets; so much so that it experienced nearly 50% more in earnings than previously expected in its quarter to September 2009.
Log in or register to see this content