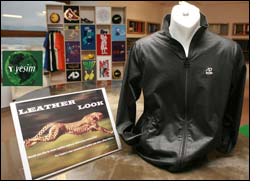 Bursa ? Yesim Tekstil, one of Turkey?s largest circular knitters has added to its range of ?smart? fabrics with a new imitation leather fabric.
Leather has featured heavily on the catwalks in recent months and Yesim is confident that this latest cotton fabric can meet the growing fashion trend for leather while at the same time ensuring no real animal skins are used.
The knitting department at Yesim is equipped with 104 circular knitting machines mainly supplied by Monarch UK. It also has 24 v-bed knitting machines for making trims and has a daily production capacity of 50 tonnes of knitted fabric, which translates into around 100,000 apparel items.
Although Yesim has some older Mayer & Cie, Jumberca and Vanguard models it has transformed the plant in recent years with significant investments in Monarch technology buying 3-thread fleece machines such as V-XC-ZDF4 in 20G in diameters of 30 ins and 34 ins.
Log in or register to see this content