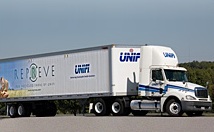 Greensboro - Unifi says it expects to begin shipping yarn from its new Central American division by Summer 2010 as it looks to lower its overall production and logistics costs.
Called Unifi Central America, the new unit is based in El Salvador and joins other established Unifi sourcing divisions in the US, China, Columbia and Brazil.
Over the last couple of quarters, Unifi has experienced increasing demand for its products from its domestic US sector and particularly the Brazilian and Central American markets.
However with an expected upward trend in polyester raw material costs over the next two quarters, which will begin to put pressure on margins at textured yarn suppliers such as Unifi, the company says its ability to recover such cost increases over the long-run will be helped by having locally produced products in the Central American region, adjacent to many of its knitwear and knitted fabric producing customers.
For the second quarter of fiscal 2010 Unifi recently reported net income of US$2.0 million compared to a net loss of US$9.1 million in the previous year. Net sales for the quarter increased US$16.5 million or 13.1% to US$142.3 million, reflecting the combined impact of improvements in retail sales across the company's primary end-use segments and increases in market share. UTSC, the company's wholly-owned subsidiary in China also reached profitability in the quarter.
?We have adapted our business model to the post-recession reality,? said Bill Jasper, president and CEO of Unifi. ?With the gradual improvement of the economy, we are encouraged by the demand levels we are seeing and the resurgence in the number of development programs using our premium value-added yarns, particularly our Repreve recycled product.
?In addition, progress continues on our Central American operation, and we expect to begin shipping locally-produced yarn in Central America during the June quarter.?