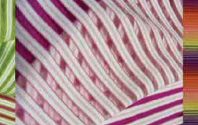 Milan - Italian knitter Maglificio Ripa has launched Skin Comfort, a synthetic, super-smooth technical knit that is said to replicate the hand and feel of cotton.
The development of Skin Comfort was conducted in close collaboration between the director of Maglificio Ripa, Luca Bianco and Maurizia Botto, who runs the Innovation Project design studio, as well as teaching at Milan?s Polytechnic University.
Skin Comfort is created using Dryarn, a highly breathable yarn whose chemical composition prevents it fading, renders it entirely non-allergenic and ensures that it has no harmful or undesirable effects on the skin.
Log in or register to see this content