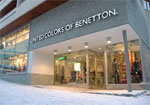 Ponzano ? Reports that Benetton Group has posted a 20% drop in full year profits have been followed by the news that the Italian knitwear specialist?s current chief executive is to step down.
Gerolamo Caccia Dominioni is to depart after nearly three years at the helm as the company announced it will also cut its dividend amid a drop in sales.
Confirming preliminary figures, Benetton said net profit for full-year 2009 fell to ?122 million from ?155 million a year earlier, as sales fell 3.7% to ?2.05 billion. Earnings before interest and taxes were 10 % down at ?229 million.
Revenue for the first three months of 2010 is expected to be in line with 2009 at around ?449 million.
Benetton also reported significant investments in production facilities again in 2009 with ?31 million spent relating to manufacturing facilities in Romania, Italy and Istria in Croatia. Most recently, it began operations at its dyeing and finishing plant in Tunisia aimed at supplying its garment make up facilities in the region with single jersey, piquet, rib and fleece fabrics has now started full operation. Previously the company relied on its two Italian operations providing finished fabrics for garment make up in the area.
Benetton Manufacturing Tunisia, which also handles a limited quantity of tubular cottons for its world renowned United Colors of Benetton knitwear range, produces dyed and finished fabrics in rolls up to 196 cm and 215m which are then transported to other Benetton ?make-up? facilities around Tunisia before shipment to Italy for worldwide exports. Cuffs and collars are also produced on smaller 58 cm wide fabric rolls.
Benetton said it is proposing to appoint Franco Furno and Biagio Chiarolanza to the board to jointly run the company.
Under the new management structure, Furno will be the head of the commercial, product and human units while Chiarolanza will be responsible for administration, finance, operations and foreign business units departments.
Caccia Dominioni was hired by Benetton in 2007 succeeding Silvano Cassano, who resigned as CEO over a dispute with the Benetton family on how best to develop operations abroad.