?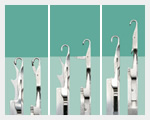 Wakayama - As luxurious fine gauge yarns continue to dominate trade shows, visitors are also responding well to the steady return of a wider choice of yarns for chunkier, coarser gauge knits.?
As consumer demand grows for these types of garments, knitwear manufacturers now have the option of a brand new version of Shima Seiki?s coarse gauge compact machine, the NSES122CS.
Available in gauges 3G, 4G, and 5G, the ?CS? suffix of the NSES122CS stands for Compound-Sinker, which the company says symbolizes the marriage of two unique Shima Seiki technologies resulting in ideal coarse gauge knitting technology.
Log in or register to see this content