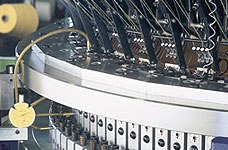 Circular knitting machine builders are responding to an upsurge in demand for striper technology from South America, India and the Far East with a range of new and improved technological developments.
While high production speeds are obviously essential to many fabric producers in these markets, many are also looking for added flexibility with rapid gauge change mechanisms and a wide range of design capabilities always welcomed.
As uncertainly continues to trouble the cotton yarn industry, many machine buyers are also increasingly keen on models that can offer a greater use of both natural and synthetic yarns.?
Log in or subscribe to see this content