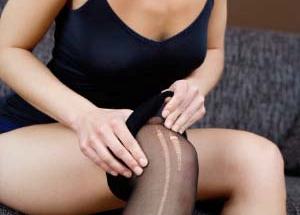 Barcelona - Several of Europe?s leading hosiery brands such as Aristoc, Dim and Golden Lady are now using Invista?s LYCRA Fusion fibre in their latest collections.
Other brands that have already launched LYCRA Fusion fibre in collections or have imminent launches include Spain?s, Cecilia de Rafael and Marie Claire; Esda and Nur Die of Germany; Italian brands Omsa, Pierre Mantoux, Philippe Matignon and Filodoro; and Gatta and Marylin of Poland
Launched last year by Invista, LYCRA Fusion fibre is described as a ?revolutionary patent-pending technology that provides an ultimate run-resistant quality to any hosiery product thus preventing scratches which can result in damaging runs?.
The first commercial run resistant products based on a melt-spun fusing yarn are already available. However, it has been reported that these products have limitations, in that they cause difficulties and inefficiencies in the garment making process, and there is also no independence between their elasticity and fusing power. With Fusion technology, Invista says it?s possible to achieve the same elasticity uniformity and power tension of normal Lycra.
Log in or subscribe to see this content