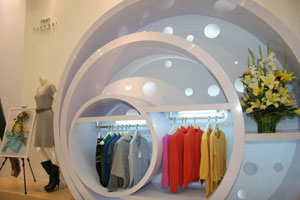 Beijing - This year?s edition of Cashmere World has been brought forward to allow both exhibitors and visitors to combine their sales and buying trips in one month.
The fair will take place in the same venue, the Chinese National Convention Center, in Beijing on 24-26 October, 2011.
Mr. Tian Hong, Director of The China Chamber of Commerce of the Import and Export of Foodstuffs, Native Produce & Animal By-Products (CFNA) and co-organiser of Cashmere World explained said that the new dates, which are one month earlier, would give buyers more opportunities to gather information, look for new suppliers and compare prices before placing orders.
Cashmere World is described by exhibitors as the only trade show dedicated exclusively to the whole supply chain of the international cashmere industry. Displayed products cover every stage, from raw materials, through manufacturing technology, testing and grading standards methods, to finished fashion products.
The exhibition also offers visitors and exhibitors a ?match-making? service that aims to facilitate meetings between new business partners. In addition, there are important ?fringe? programmes, including an industry forum and a conference designed to help visitors better understand colour, design and the latest innovations
The 2010 edition saw international participation from key cashmere supplying regions including Afghanistan, China, India, Mongolia and Nepal as well as cashmere importers from France, Hong Kong, Italy, Russia, Sweden, and the UK. Exhibiting were leading cashmere brands including Consinee, Erdos Group, Gobi, Snow Lotus, Springair, Viction, Zhongyin.