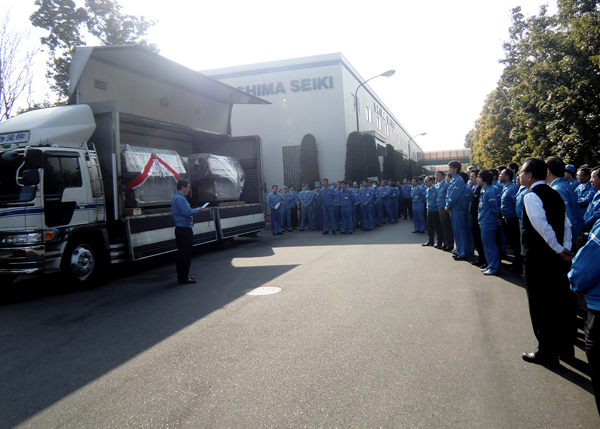 Wakayama - Just days after its 49th Anniversary celebration on 4th February 2011, Japanese flat knitting machine manufacturer Shima Seiki held a send-off rally for its 100,000th computerised knitting machine to be shipped overseas.
The commemorative machine was a NSSG122-SV machine in gauge E7, scheduled for installation at a knitting factory owned by a Hong Kong-based company.
It is to become one of over 3,000 Shima Seiki computerized knitting machines installed by that company.
One of Shima Seiki's mainstream computerised knitting machines and currently its best-selling model, the NSSG122-SV is a compact machine with a 48-inch knitting width and an ultra-compact double-system carriage. High productivity is achieved with the R2CARRIAGE (Rapid Response Carriage) system with the WideGauge knitting capability allowing a single machine to knit a wide range of gauges for increased flexibility.
NSSG122-SV also features Shima Seiki's renowned DSCS Digital Stitch Control System as standard equipment for assuring production quality and consistency, the company said.
?Shima Seiki began exporting its SEC series machines in 1984, and quickly found a growing market for its unique combination of creative innovation, user-friendliness and solid reliability worldwide,? the company said in a statement. ?The subsequent introduction of the SES series in 1989, followed by the SWG series WholeGarment machines in 1995 and the 2006 release of the SSG series has helped Shima Seiki to maintain a significant presence overseas as leading computerised flat knitting machine technologist for almost 30 years.?