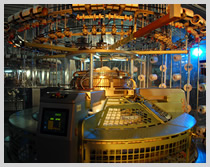 Colombo - Circular knitting giant Textured Jersey is hoping to take advantage of potential growth opportunities in both its domestic Sri Lankan market and the South Asian region with a flotation of up to 30% of the company.
The company, which has its origins in the UK knitting industry heartland around Leicester, is a major manufacturer of knitted fabrics for intimate apparel and sportswear industries. It is a major supplier to apparel manufacturers throughout Asia and retailers counting Victoria?s Secret, Marks and Spencer and Intimissimi among its major clients.
It is currently jointly owned by two other industry giants, Hong Kong-based circular knitting Pacific Textiles, which has a 60% stake in the company, and Sri Lanka?s Brandix Lanka, which owns 40%.
Although a company with more than 50 years of knitting experience in the UK, Textured Jersey was established in its current guise in Sri Lanka 2000 in partnership with MAS Holdings and Textured Jersey UK. Pacific Textiles then bought Textured Jersey UK?s shares in 2005. It produces both single and double jersey fabrics on mainly Fukuhara and Pai Lung machines. It also runs banks of the latest circular knitting technology from Mayer & Cie, Terrot and Orizio with fabrics knitted in a range of weights and gauges from 100 to 300 gsm. The gauges used for the rib fabrics are 15, 16, 18 and 20G, for single jersey 24, 28, 32 and 36G and for Interlock 24,28 and 40G.