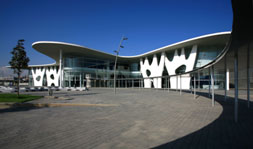 Barcelona - ITMA is to host a roundtable event to share trends, exchange views and collaborate on sustainability issues across the textile industry.
The Sustainable Textile Leaders Roundtable Dialogue will see participation from major textile machinery manufacturers, textile and apparel producers, and brands and retailers when they converge at ITMA 2011 in Barcelona this September.
Organised as part of ITMA?s 60th anniversary celebrations, the inaugural dialogue is scheduled to be held on the opening day, 22 September 2011, at the Fira de Barcelona Gran Via.
According to Ms Sylvia Phua, chief executive officer of co-organiser MP International, invited speakers will share the latest on sustainable innovations, machinery advances and trends for the future that will impact all players in the textile and garment making value chain. ?Besides focusing on innovation and creativity, industry players need to tackle pressing environmental issues to ensure the long term sustainability of their businesses and secure their place in the global economy,? she said. ?We are pleased to partner with Textile Exchange to launch this dialogue to help all textile leaders in their quest for sustainability.?
Mr Stephen Combes, President of CEMATEX added: ?As the largest textile and garment machinery exhibition in the world, ITMA is well positioned to integrate machinery manufacturers into the entire value chain for sustainable production. The issue of sustainability is part of our longstanding commitment to help the world textile industry innovate and meet the global challenges.?
As well as the Sustainable Textile Leaders Roundtable Dialogue, ITMA 2011 will present the World Textile Summit, Textile Dyestuff and Chemical Industry Leaders? Forum and Industrial Fabrics Association International (IFAI)?s Advanced Textiles forum.
The Textile Dyestuff and Chemical Industry Leaders? Forum is scheduled to be held on the mornings of 25 and 26 September 2011 at the Fira de Barcelona Gran Via. Currently, the China Dyestuff Industry Association (CDIA), Dyestuffs Manufacturers? Association of India (DMAI), Indian Speciality Chemical Manufacturers? Association (ISCMA), Latin American Federation of Textile Chemists (FLAQT) and Society of Dyers and Colourists (SDC) have confirmed their participation in the forum technical committee, which will chart the direction of the discussion.
---
Participants at ITMA may also gain a deeper understanding on technical textiles at The Industrial Fabrics Association International (IFAI)?s Advanced Textiles forum, which will be held from 26 to 27 September 2011.

Topics to be covered by leading industry experts include an overview of the technical textile market and demands and challenges, an examination of specific end market needs such as performance apparel, bio-hazard/extreme environment and electronic interactive materials as well as digital signage and complex materials applications.

Since February this year, MP International has embarked on extensive roadshows and presentations to key countries across Europe, the Americas, North Africa, Middle East, India and Asia.

Central to the promotional campaigns are establishing partnerships with leading industry associations and buyer groups from the key industry segments, and establishing rapport with government officials from key textile and garment manufacturing countries.

The response from major textile and garment manufacturing markets in the Indian sub-continent which include Bangladesh, India and Pakistan, has been very positive, and plans are underway to organise visiting and buying delegations to ITMA 2011.

In the coming months, MP International will be meeting more textile and garment professionals and trade associations in key markets including Argentina, Brazil, China, Czech Republic, Indonesia, Mexico, Poland, Portugal, Russia, Sri Lanka, Taiwan, Thailand, Turkey, and Vietnam.