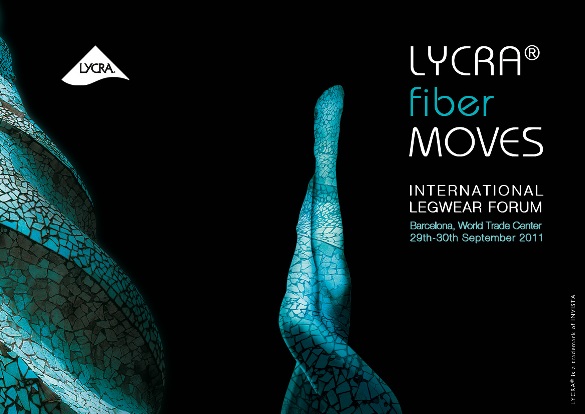 Barcelona - Delegates at this year?s Lycra Fibre Moves seminar will hear from a range of industry specialists including Nerino Grassi, founder and president of Golden Lady and Seiya Saito, famous legwear designer and Creative Director at Atsugi, Japan as well as key Invista executives.
The event, which takes place in Barcelona on 29 and 30 September aims to bring close to 250 textile industry professionals to the Mediterranean city in order to offer them a valuable insight into the latest technological developments and future legwear industry trends.
This year the speaker line-up will include some of the most influential figures from the global legwear industry including Dave Trerotola, president of Invista Apparel, Serge Vigouroux, Executive Vice President, Marketing Business - Invista Apparel and Geoffrey D. Hietpas, Invista Global Marketing Technology Director who will share their points of view and expertise as well as introducing new developments from the Lycra brand.
The event will also offer attendees an overview of industry trends for the next five years as leading apparel experts discuss the future of the global legwear sector. As well as Grassi and Saito, delegates will hear from Yu Ze, General Manager, RIME, China; and industry consultant Shirley Anne Sherriff from Opus Business Consulting, Great Britain.
A key focus of this year?s event will be innovation and Invista has also confirmed the participation of Ken Morse, Serial Entrepreneur, Visiting Professor at ESADE Business School, Founding Managing Director of the MIT Entrepreneurship Center. Morse will provide thought provoking insights into the challenges of achieving continuous innovation in the face of rapid change, and the storm of global competition.
In addition, Charles Hayes, IDEO Practice Lead in Consumer Experience Design for Asia, will share his point of view on how design can be a driver for innovation.
Pierluigi Berardi, Global Segment Director ? Legwear at Invista said: ?The Lycra fibre Moves forum is Invista?s commitment to the legwear industry, following the success of the first edition in 2009 in Verona. After two years of extensive investigation and exploring the upcoming trends of our sector we are now ready to share our findings with all our customers along the value chain in an event that is going to be an inspiration for everyone.?
Consuelo Ba?on, European Marketing Director ? Legwear at Invista, added: ?We are delighted to be able to offer our customers and media this unique opportunity to come together in Barcelona, to discuss the future of the industry with such an illustrious group of expert speakers and we hope the event will offer a fulfilling experience to each one of our guests.?
In line with the launch of the fibre and yarn chapter at the ITMA exhibition Invista will also be showcasing innovations and new product developments for all apparel segments (intimate apparel, swimwear, legwear, ready-to-wear and sports.