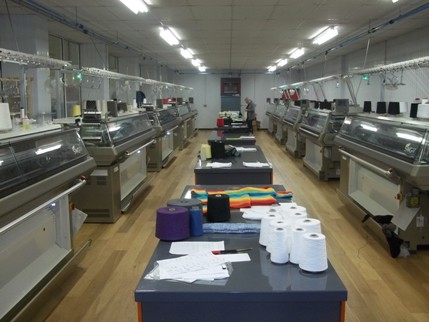 Leicester - The installation of a line of brand new Shima Seiki WholeGarment knitting machines, including the latest fine gauge Mach2X and Mach2S technology, has signalled a major phase in the ?rebirth? of a knitwear manufacturing operation in the UK.
019 Clothing is the brainchild of Brian de Zille, founder of the Sweater Shop and his long-time colleague Alan Hodges, both of whom visited the Knitting Trade Journal booth at the recent ITMA exhibition to outline their plans, and invite us to see the new venture in operation at their Leicestershire premises.
After launching the Seamless Technics business in 2010, which produced specialist fire proof racing wear, Mr. de Zille and Mr. Hodges decided to expand, back into the industry they know so well, and now produce a range of high quality v-neck and crew cut sweaters, T-shirts and knitted dresses, with the entire manufacturing process taking place at the company?s newly kitted out 7,500 square feet factory.

The full interview will appear in the next issue of Knitting Trade Journal. CLICK HERE to ensure you receive your copy.