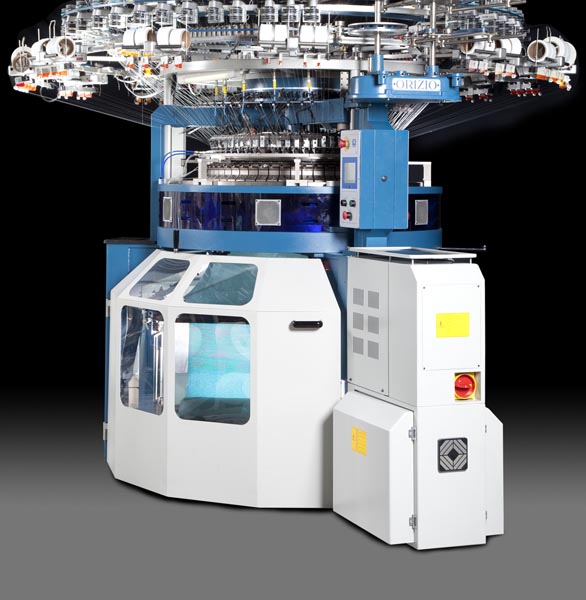 Brescia - Circular knitting machine builder Orizio will unveil the latest version of its MJMBF2 single jersey striper model at next month?s ITM exhibition in Istanbul.
The redesigned 30 ins diameter MJMBF2, which is equipped with electronic needle-by-needle selection and is capable of 3-way knitting techniques, is also now available with new Orizio ?Oritec? electronic control system.
The MJMBF2 is a single jersey circular knitting machine that can work with four colours electronic stripers at each feed. According to the company, the cams profile and the selection system have been analysed so that the movements of the knitting elements take place in the most favourable conditions, thus assuring the perfect formation of the stitch with the minimum energy consumption and, consequently, considerable reduction in the wear of all the machine?s components.
?The needles and yarn fingers electronic selection allows for the automatic passage from one structure to another one as well as the partial or total annulment of the pattern, thus giving the possibility of pattern placing,? Orizio said, adding that customers would be given the opportunity to see the ?latest generation? Orizio 4 colours striped jacquard machines in Istanbul and to experience all the improvements and innovations which have been recently introduced.
The MJMBF2 is available in 30 and 34 ins diameters and in gauges 18-32G with 48 and 54 feeds. Maximum rpm is 24.
The Oritec system has been designed with a touch screen, usb port for data loading and/or software updating and 512 Megabyte standard memory capacity. ?This facility will create a whole and new exciting dimension for the Orizio machines,? Orizio said.?