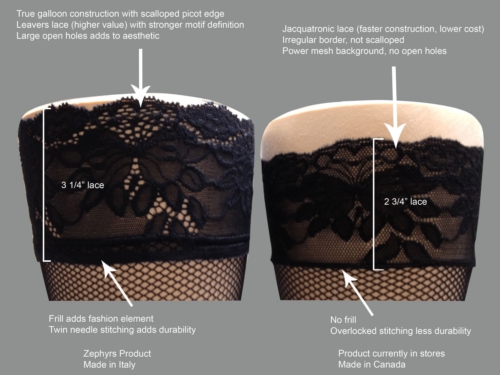 Columbus - Victoria's Secret Stores, Inc. and its parent company Limited Brands, Inc. have been accused of breaching a 2001 agreement, and deliberately selling cheaper "knockoffs" to unsuspecting consumers, in a US$15 million lawsuit filed by one of the retail chain's former major hosiery suppliers.
In a complaint in the federal court in Columbus, Ohio where Victoria's Secret is headquartered, New Jersey-based hosiery designer Zephyrs alleges that Victoria's Secret is misleading customers by selling less expensive, Canadian-made stockings while intentionally using photographs of Zephyrs-designed Italian-made stockings on packaging and in store displays.
Zephyrs claims that the less expensive copies are missing key design features.

The Complaint also alleges that, facing stagant profits and mounting debt, in order to unlawfully reduce its expenses, the retailer has contacted Zephyrs' suppliers directly with the intent to copy their designs, in violation of its written contracts from 2001.
Exhibits show a number of differences between the Zephyrs-designed products depicted on the packages and the actual stockings, including cheaper lace trim, irregular borders, less durable construction and missing heel reinforcements.
In addition to seeking damages for breach of contract, the lawsuit alleges unfair competition and false advertising in violation of federal and state consumer protection laws, including consumer fraud in California, New Jersey, New York, Connecticut and Ohio. The suit also seeks corrective advertising and a recall of the accused products, which may have been sold in over a thousand Victoria's Secret stores, and on VictoriasSecret.com.