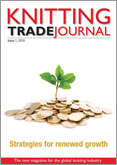 Magazine frequency to increase to SIX issues per year. Knitting Trade Journal is now recognised as the authoritative printed magazine to find technical and commercial information on the global knitting and hosiery industries.
Unlike consumer titles, in B2B publishing, the printed word is becoming ever more powerful. It has a long shelf-life, is a tangible product, holds more authority than web-based chatter, and readers are happy to buy into ownership of printed B2B magazines.
Because we are in print, you can also see Knitting Trade Journal at many trade shows around the world. As our readers know, Knitting Trade Journal offers the ?Perfect Balance?; our magazine is supplemented by our popular on-line daily news service here at www.knittingtradejournal.com and our weekly e-news bulletin.
For Knitting Trade Journal, ?Content is King? and with the quality of content illustrated by demand from our readers for greater magazine coverage, we are delighted to announce that we will be increasing our frequency from four to six issues per year from January 2013. Knitting Trade Journal is designed to be responsive and deliver up-to-date information on the latest news and industrial best practice on the issues that really matter and our increased frequency will guarantee that this level of service continues.