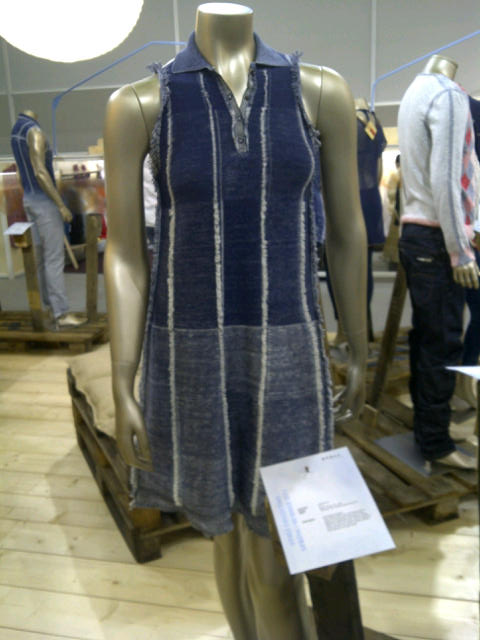 Reutlingen - What happens if our cutting edge flat knitting technology meets denim? This is the question posed by German knitting machine builder Stoll. This video offers some of the answers.
Stoll unveiled its new knitted denim collection in February at the Knitwear Solutions exhibition in Paris. As well as allowing its existing customers to diversify their offerings, these new possibilities will also allow the German firm to target traditional denim weavers looking for new pattern possibilities and a more environmentally friendly alternative to the usual manufacturing methods.
CLICK HERE TO VIEW 'THE UNLIMITED POTENTIAL OF DENIM'

Outlining the background of the new collection, Joerg Hartmann, managing director, Stoll Fashion & Technology, told Knitting Trade Journal that the denim collection was the result of close collaboration with both an indigo yarn specialist and a denim finishing expert ? Unitin from Spain?s Industrian Morera and Germany's CHT R. Beitlich, respectively.
The yarn used is a 100% cotton, indigo dyed yarn that is processed using a special procedure to dye each single yarn only on the outside so that the interior remains white, a characteristic that allows the creation of stonewashed or bleaching looks. Using its own specially developed system Morera is also able to supply the yarn on cones for weft knitters. The indigo yarns are available in a range of shades and counts from 1/12 Nm up to 1/40 Nm with two ply yarns also available on request.
?These yarns and the subsequent washing techniques employed by CHT mean we can provide a worn or burnt out look,? says Mr. Hartmann, explaining that the garments can also have the worn and distressed features knitted in.
Much of the collection was knitted on the latest machine type, the CMS ADF-3, albeit with the relevant cam changes, which includes a newly developed independent yarn feeders that can be moved to any height and set to various lock positions.
On closer inspection, many of the garments are produced with a range of techniques made possible by the CMS ADF-3 such as the varied possibilities for plating, multi-gauge applications, and intarsia knitting, including smaller colour areas, reverse plating and intarsia plating.
With the CMS ADF-3, each of the yarn feeders is driven by two independent motors and both their heights and relative travelling positions can be freely programmed. Each yarn feeder therefore not only gains two new degrees of freedom, but can also be redefined for every movement.
According to Stoll, the diversity of new pattern and colour combinations allows pattern designers, developers and producers of knit products to enter new dimensions in knitting. The high degree of flexibility of the yarn feeders also enables new stitches and yarn inserts.
In addition, a number of ergonomic improvements which Stoll says are unmatched by any other flat-knitting machine, include sliding rear hoods with integrated bobbin holders and balloon preventers, yarn control devices arranged above the machine in the shape of a ?V? to ensure non-intersecting yarn paths, and a low working height.
Mr Hartmann is keen to point out the benefits of these new knitting techniques. ?This technology will help Stoll broaden its reach as we will now be able to attract traditional denim weavers who are looking for a new technology that can save on labour costs, raw materials and even the levels of water and other resources that are required for regular denim production. There is also no need for any post production processes such as sandblasting.?
?Knitted denim has huge potential,? Hartmann adds, citing the example of one major Bangalore-based denim weaving mill which supplies many of the world?s leading brands and has already taken machines on trial as it looks to exploit the potential of knitted denim. ?It gives denim weavers a chance to explore new trends, widen their product ranges and access previously untapped markets.?
?Stoll enables a new and progressive look of design and manufacturing in the world of denim,? the company adds. ?The new collection shows a selection of the almost unlimited potential in knitting. As flat knitted fabrics are sensitive to mechanical strain, the traditional method of distressed looks cannot be applied on knits as drop stitches would occur.
?Thus, the distressed look of our knits is the result of software programs automating the worn-out look directly on to the machine. This innovation is not just an aesthetic design feature but contributes to economic, social and ecological advantages, as water consumption and manual labor can be significantly reduced. The outcome of this is our motivation to come up with new solutions and innovations for our coming collection.?