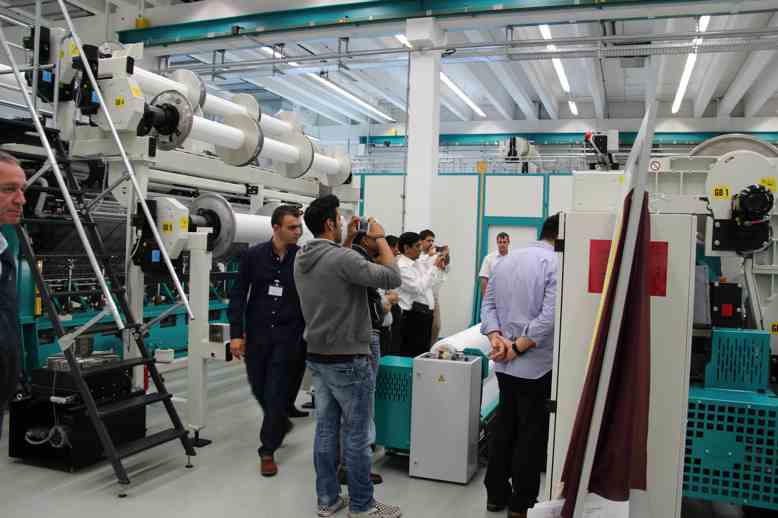 Obertshausen - Warp knitting machine builder Karl Mayer welcomed more than 200 guests to its latest open house event at its Obertshausen, Germany headquarters in September.
Timed at the halfway point between ITMA Barcelona and 2015?s ITMA Milan, the show represented a chance for Karl Mayer to showcase its latest technological developments to both existing and prospective customers.
?In view of ever shorter innovation cycles, we find that four years is quite a long time to elapse between the ITMA exhibitions in Europe, the leading trade fair for international textile machinery builders,? the company said. ?This is the reason why Karl Mayer decided to present its latest machine innovations already this year.?
Visitors were mainly from Europe although there were also attendees from Egypt, India, Thailand and Taiwan.
?All in all, the open house event was just perfect,? said Oliver Mathews, Sales Vice President of the Warp Knitting Business Unit. ?Many of our important customers visited us, and could be convinced of the high performance of our exhibited machines and of Karl Mayer?s innovative power.?
Warp knitting machines on show included the new MJ 42/1-B, a RSJ 4/1 ? featuring as the newly available gauge of E32 model, a HKS 4-M EL, the new HKS 2-SE in gauge E40, a HKS 2-3 in E50 and the brand-new TM4 EL which is quickly becoming one of the company?s best selling machines.
Also on show from the Warp Preparation division, at Karl Mayer?s facility in nearby Hausen, were the new generations of the Nov-O-Matic and of the Multi-MATIC.
The technology show was complemented by a small but select product show covering lingerie, sportswear and outerwear. Among other things, the visitors had the opportunity to see light running jackets and evening gowns from the company?s own creations. In addition, trend expert Louisa Smith delivered a lecture on the textile trends for autumn/winter 2015/2016 at the ISPO Textrends Forum.
Karl Mayer also took the opportunity to highlight its latest software systems which have been designed to provide a straightforward and comprehensive tool for fully utilizing the patterning possibilities of Karl Mayer machines. The demonstration include computer simulations from companies such as Texion, EAT and CADT.