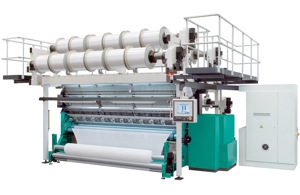 Obertshausen - Warp knitting machine builder Karl Mayer has expanded the range of courses available at its training academies, reportedly attended by representatives from The North Face, Gore and Pearl Izumi, in India, China and Germany, with workshop topics including machine operation and repair, warp knitting technology, fabric analysis and advanced courses on specific tricot and multibar raschel machines.
The Karl Mayer Academy in Surat, India, opened in June last year, with new courses including Lace Basics, a two day course on ?the fundamentals and principal production possibilities of warp-knitted lace?, courses on fabric analysis, aimed and designers and developers, and Wrap Knit Basic for Technicians, on machine maintenance and repair.
Further, the Karl Mayer Academy India also offers Warp Knit Basic, covering the basics of stitch formation, fabric construction and lapping technology, calculating yarn run-ins, and fabric analysis, a three day tricot machines operators? course, a management course for company owners on ?productivity, production and textile possibilities?, and ?one day machinery maintenance training.
A one-off course was also held at the India academy from in July on the double-bar raschel machine, with trainees reported to be interested in its application for cushioning, and warp-knitted spacer textiles for shoes, rucksacks, jackets and protective equipment, according to Karl Mayer. Last year, 164 people are said to have completed courses at the China academy, which offers all warp knitting and raschel machine courses, with more than 130 attendees from January to August this year.
Situated at the Karl Mayer headquarters in Obertshausen, all courses at the Germany academy are reportedly fully booked up until December, with 218 participants trained by the end of July this year. Here, alongside training on the basics of warp knitting, courses on fabric analysis and machine specific tuition, courses tailored to specific requirements are also available.
The Karl Mayer Academy Germany is also responsible for training clients in the USA. Participants of this year?s course included representatives from the clothing, medical textiles and automotives sectors, including The North Face, Gore, and sports apparel producer Pearl Izumi, according to Karl Mayer. The training programme covered fabric analysis, the production of lapping schemes, end-uses and fabric finishing.
Registration for Karl Mayer Academy courses in Germany and India can be made by emailing This email address is being protected from spambots. You need JavaScript enabled to view it. and This email address is being protected from spambots. You need JavaScript enabled to view it. for China.