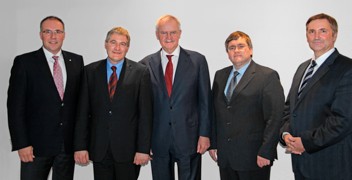 Obertshausen - Karl Mayer has acquired a majority stake in fellow German warp knitting machine builder Liba Maschinenfabrik GmbH, a move which will see Liba integrated into the Karl Mayer Group.
Financial terms of the deal were not disclosed.
Under the terms of the deal, the president and owner of Liba, Karlheinz Liebrandt will continue to hold shares of the company. He will also keep his position as spokesperson of the company management. From Karl Mayer?s side, Marcus Kube will be added to the management of the company while Liba?s facility in Naila will continue to operate as a high technology location.
According to Karl Mayer, measures will be taken immediately to work on a fast integration of the two companies but until then, the business activities on both sides will continue without changes, especially in regard to products and market coverage. ?For decades Karl Mayer and Liba have been the leaders in the development, manufacturing and distribution of warp knitting machines and machines for the production of technical textiles,? Karl Mayer said in a statement. ?Both involved parties are convinced that with the combined high level of technical knowledge of the two companies, the long term market leadership of German warp knitting machine manufacturing will be ensured."
With Liba?s technology now at its disposal, Karl Mayer will be able to complement its own range of machines as well as adding the formers more niche models to its portfolio. Liba is perhaps best known for its machines for the technical textiles sector such as the Copcentra MAX 4 CNC, the company?s most compact and flexible multiaxial warp knitting machine.
This machine is able to produce more than 5 tons of multiaxial glass-fibre fabrics per day, at speeds of 2200rpm and in a 50 ins working width, while also offering improved fabric quality, reduced energy consumption and reduced noise factor. It also offers reduced machine vibration due thanks to its separate construction unit for warp knitting beams and a modular construction for the flexible number of weft insertion units. The new MAX 4 CNC also has the new fabric take up unit, 12 ES, with a servo-motor that is integrated in a Liba CNC machine processing unit.
According to Liba, the new compact construction of MAX 4 CNC is based on the new drive of weft insertion units which leads to a reduced weft running-in distances and layer movements. For the production of fabrics for wind turbines (i.e. + / - 45 degree angles), these weft insertion units are combined in such a way that they have a minimum distance between them allowing the production of two layer angles in a single step. This also has the benefit of reducing the weft insertion process.
This machine has been used to produce brand new multiaxial weft insertion fabrics which include the patented, award winning ?Multi Compact Fabric?. For different applications, the new longitudinal axis on the MAX 4 also adds stability to the fabric while it also offers the highest levels of drapability. Mechanical tests of the glass fibre reinforced structures indicate no difference between common layers and overlapping Liba Multi-Compact fabrics.
Liba also offers the Conceptra range of tricot machine for the high speed production of elastic fabrics for swimwear, lingerie and sportswear as well as double needle bar Raschel machines which can produce spacer fabrics and machines such as the Racop JF P 3/1 G Raschel machine which is equipped with piezo selection technology and 1 jacquard bar and 2 or 3 ground bars for the production of patterned lace.